2014 AACRAO Transcript Survey Results are Out!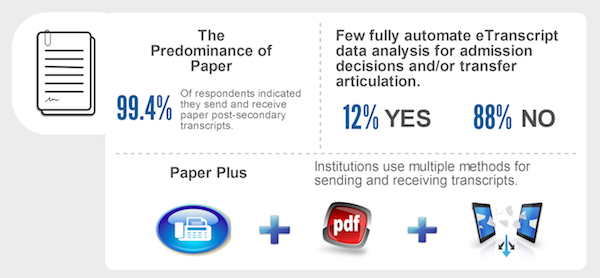 In 1997 SPEEDE released a visionary white paper about the impact electronic data interchange (EDI) could have on the efficiencies and costs associated with student record exchange.  Now, 17 years later, AACRAO, NACUBO and Parchment have teamed up to update this study and see how far electronic student record data exchange has come.
Perhaps the most surprising result of this study was the fact that paper is still king. 99% of respondents reported sending or receiving paper transcripts.  Over the past few years adoption of electronic methods such as PDF or XML/EDI have started to gain some traction, but adoption is still relatively low.  While almost every other aspect of education has been transformed by technology, student record exchange is notably absent.
The study looks to understand what the adoption levels are like at different institution types, and the associated costs.  Are you using electronic transcripts? What do you think the biggest inhibitor to adoption is?
Read the study and let us know in the comments what you think.
Search
Let us help you find what you are looking for.