And the Rock Star Counselor Award Goes to …. Sarah Elaine Hart!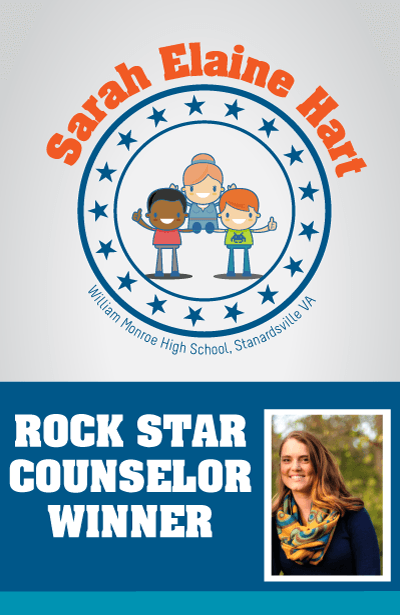 We are so excited to announce the winner of our #HSC2015 style contest to  "Refer a Counselor!" The winner receives airfare, hotel, and registration to NACAC 2015 in San Diego.  After reviewing all of the submissions of so many great, and I do mean GREAT counselors, we finally settled on one counselor who really epitomizes the best and brightest in the field.
The 2015 Parchment Rock Star Counselor Award goes to, drumroll please, …..
Sarah Elaine Hart
William Monroe High School, Stanardsville VA
Sarah Elaine was nominated by one of her peers. When we called to let her know she was not only nominated but the winner she exclaimed, "I was beyond delighted and more than a bit stunned when my colleague informed me that I am the recipient of this award. I truly feel as though I have been told I am going to Disney World for counselors! What an amazing opportunity. I am deeply grateful. This sort of professional opportunity is certainly out of reach for me and my department."
We'll be following Sarah Elaine on her trip to NACAC and wish her — and all of you attending this year — a wonderful conference!
Thanks to all of you who submitted nominations. And congratulations to all of this year's nominees!
You can read the submission for Sarah Elaine Hart below.  
Sarah Elaine Hart comes to school every day with a clarity of purpose I have rarely seen in any person, in any profession. The word "counselor" feels woefully inadequate to describe the nature of her interactions with every single student in our high school. She is alternately a sounding board, life coach, career adviser, cheerleader, and a master of the pep talk. She's as likely to break up a fight as she is to offer a hug. She'll turn up the heat on a slacking freshman just as easily as she can joke with a senior entirely consumed by senioritis just to squeeze out a few more drops of effort prior to graduation. Kids are drawn to her because they find immediate and indelible positive regard, no matter their struggles or afflictions.

Ms. Hart is either talking to a student or seeking out a teenager in need from the moment she arrives at school every day, to include the walk in from the parking lot. I've seen her pull off some very impressive counseling stunts while her kids are still sitting in their cars in the morning, presumably on the fence about going to school that day. Once she drove to a student's house and she impressively charmed the student's much older, shirtless, and not entirely sober boyfriend and convinced everyone in the house that coming to school that day was the only reasonable choice. That student is now on track to graduate, which is an outcome I could not have predicted prior to that inspired visit.

SE, as she is known to her coworkers, founded a mentoring program for at-risk students which has enjoyed enormous faculty support. She co-leads our 504 program and has overseen a highly effective overhaul to enhance understanding, communication, and efficacy among the students and staff alike. She started a group counseling program called CALM which cannot serve all the young people now clamoring to be a part of it. Did I mention that this is her first year at our school and in the profession? She has quickly become among the most essential adults in the building because of the sheer number of people who count on her every day for emotional or material support. Her hands are in everything and she has somehow not only balanced it all, but pulled it off with panache and gusto, all the while deferring credit, seemingly a bit embarrassed by all the attention her many successes have garnered.

She is beloved by the students, the staff, and the parents, not just because of her enormous charisma, not for the tremendous order and productivity she brings to everything she touches, and not because she appears indefatigable during even the longest of weeks. She profoundly believes in the kids in ways it never occurred to them to believe in themselves. It shows in all that she does, through all of her very long work days, she has filled us with Hart and we're all the better for it.
Search
Let us help you find what you are looking for.