Bracketology: Parchment Reveals 4th Annual Student Choice College Rankings for 2015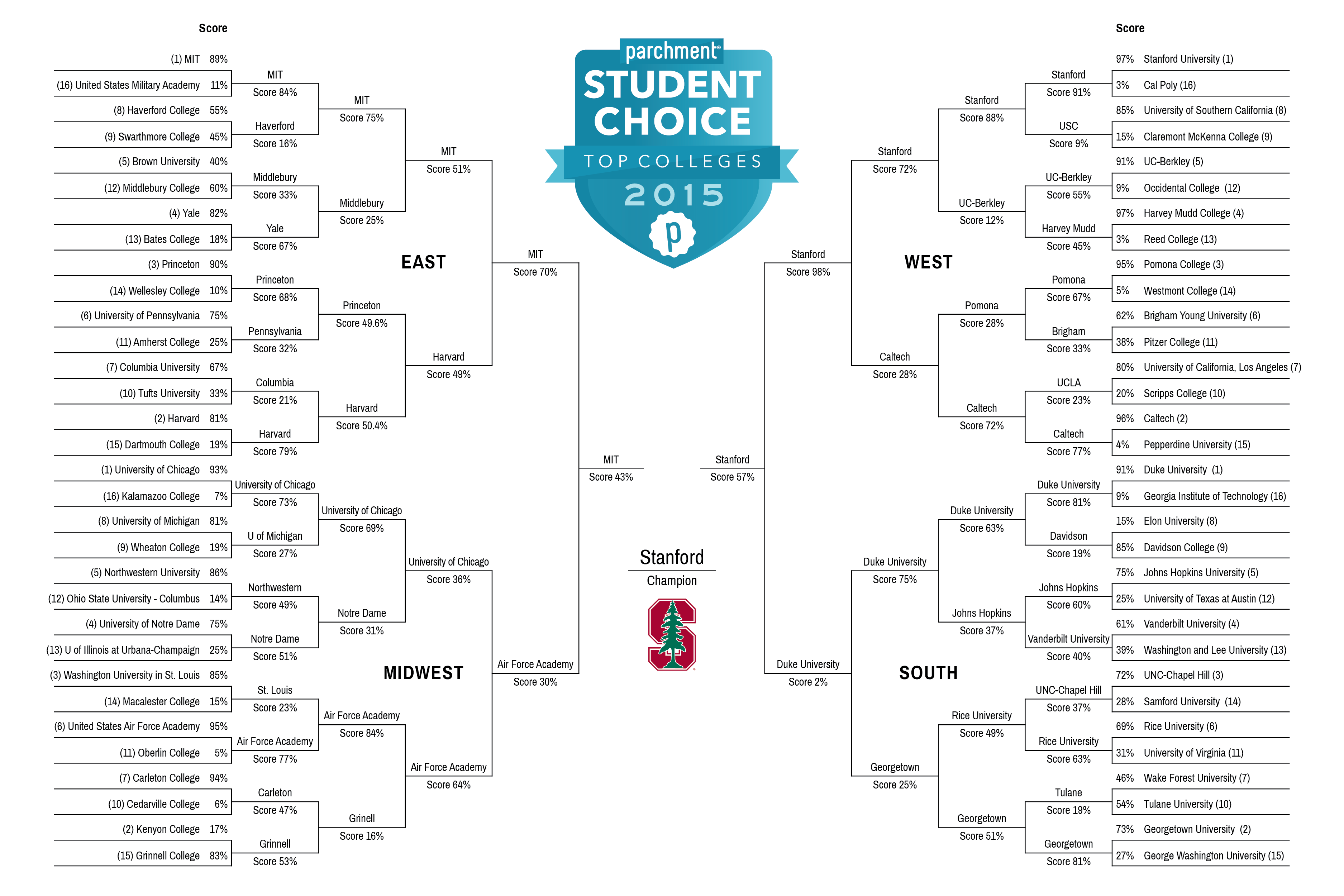 The NCAA has March Madness. Parchment has Student Choice College Rankings. The common denominator? Ranking colleges!
The 2015 Parchment Student Choice College rankings reveal that for the second year in a row, Stanford, MIT, and Harvard start as the top three colleges selected by students, respectively. Hold your applause because the real story lies in the fact  that military institutions have become a more popular choice, with the U.S. Air Force Academy shooting from 42 to 7, over top Ivy League schools Columbia (12), Brown (15), and Dartmouth (16). At the same time, the United States Military Academy moved up from 27 to 16 in just twelve months.
Through the 2015 Student Choice College rankings, we see the following movers and shakers:
There were some ups
Middlebury College moved up from 20 to 9

Williams College increased 38 spots from 58 last year to 20 this year

Johns Hopkins jumped from 42 last year to 24 this year

University of California, Los Angeles made its entrance into the top 25 from 31st rank a year ago
And some downs
Duke University fell from 5 to 10

Brown University moved down from 10 to 14

Harvey Mudd College dropped from 8 to 23

Amherst College fell 10 spots to 28
How we do it
The only college ranking study 100% derived from student-reported decisions, Parchment's study compares more than 700 colleges and universities from a sample size of 27,000+ U.S. in-bound college students. And that's a lot of students!
Unlike colleges that generate rankings based on subjective judgments or factors subject to gaming, such as selectivity or test scores, we use a widely accepted tournament ranking methodology in which all colleges are created equal and earn points based on student acceptance and attendance. Actually, it's a bit more complicated than that. (Think of an Elo-based points system used to rank professional chess players .)
Full breakdown
2.       Massachusetts Institute of Technology
6.       Caltech
7.       United States Air Force Academy
10.   Duke University
11.   Bowdoin College
14.   Brown University
16.   United States Military Academy
17.   Pomona College
19.   University of California, Berkeley
20.   Williams College
22.   Bates College
25.   University of California, Los Angeles
For the complete 2015 Student Choice College Rankings list, visit parchment.com/rankings.
Valuable data helps students find the right fit
Acceptance and enrollment data comes from Parchment.com. Students use Parchment's  free online resource to collect all their education credentials, research colleges, discover their chances of admission, see how they stack up to peers, and send official transcripts to apply to their selected academic institutions.
Let's see if this bracket matches up with the NCAA tournament in March!
Search
Let us help you find what you are looking for.