Three days and three late party nights into SXSWedu, attendees packed into the room at 9am to learn more about the emergence and acceptance of alternative credentials.  Matt Pittinsky and his co-panelists, An-Me Chung from Mozilla, Darin Hobbs from Western Governors University and moderator Cathy Sandeen from ACE, discussed how innovations in credentialing can complement our current system, and better reflect what people know and how well they know it.  The conversation covered badges, competency-based transcripts, credit for prior learning and the technology platforms and open data standards that connect and integrate the credentialing ecosystem.
Here are a few screen shots of what attendees were tweeting, and you can check out the conversation #credFuture.
Hope we can come back next year and plug into the great energy, creativity and optimism that is SXSWedu!
From the tweetospere: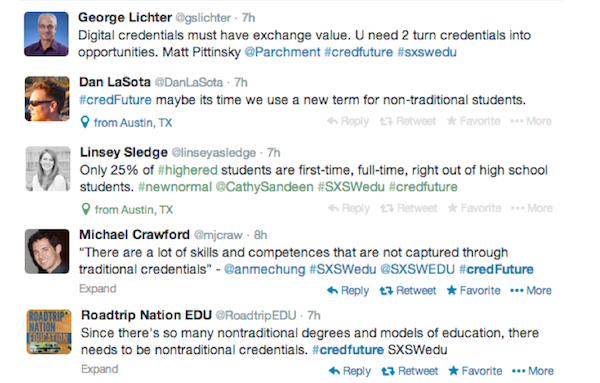 Search
Let us help you find what you are looking for.