Introducing the Credential Innovation Framework
Over the years, in product planning meetings, focus groups, surveys and at our annual user conference, we asked YOU about extending the transcript and the future of credentialing. The result: our Credential Innovation Framework (CIF), five clusters of innovative activities that institutions—like Furman University moving transcripts from paper to paperless, Stanford University with its clickable transcript, and the co-curricular transcript at Elon University—are doing to make their credentials more effective.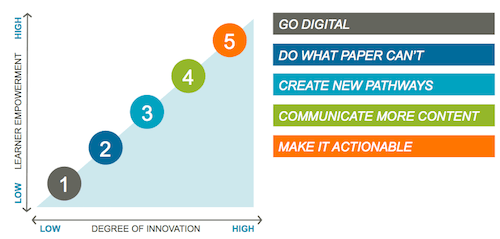 The CIF identifies five activity clusters arranged graphically based on how the degree of credential innovation on the X axis relates to the level of learner empowerment on the Y axis. In a nutshell:
Go digital. Begin with the eTranscript and expand to all credential types: diplomas, non-degree certificates, verfications and even digital diplomas.
Do what paper can't. Take the digital form beyond just an image of its paper counterpart with clickable, visual and machine-readable data for added functionality.
Create new pathways. Enhance credential exchange to support the diverse pathways learners take across institutions on their way to an academic degree, ensuring portability of courses and credits to maximize degree completion and learner success.
Communicate more content. Add competency-based and experiential, or co-curricular, data to show the full impact of a postsecondary education.
Make it actionable. Align with our digital and mobile culture, enabling learners to store credentials in one place where information can be easily displayed in online profiles, such as professional or social networking sites.
Where you begin and end within the framework is based on your institutional mission and depends on the degree of innovation that works for you today—and tomorrow. We offer you this catalyst for a new digital palette on which to innovate, a blueprint for a new era of credentialing that must start now.
Stay tuned: In subsequent posts, we'll take a deeper dive into our innovative framework.
Learn more: Download "Extending the Credential. Empowering the Learner" white paper.