Join Inside Higher Ed Editors for Discussion on Extending Credentials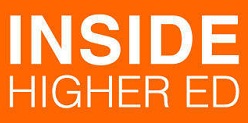 Parchment is excited to have partnered with Inside Higher Ed to produce a special booklet titled, "Extending the Credential." This free booklet highlights a series of articles that explore topics like competency-based education, internships, the role of co-curricular activities and the evolving role of the transcript and of the degree. Download the booklet for free here.
Inside Higher Ed will present a free webinar on Wednesday, May 20 at 2 p.m. EST discussing the themes of the booklet. Presenters include Inside Higher Ed editors Scott Jaschik and Doug Lederman. To register for the "Extending the Credential" webinar, click here.
To learn about Parchment's point of view on extending credentials, you can review the most recent whitepaper, "Extending the Credential Empowering the Learner."
Search
Let us help you find what you are looking for.