K12 Enhancements – Making the Grade with Spring Upgrades
Parchment.com is undergoing some very exciting changes for K12 members with our next release! Students will be now able to sign up, order and track their credentials with ease through their mobile devices. We are also introducing a new look and feel to the dashboard with the Credential Profile. And last, but not least, we've cleaned up our Help Center to provide a clearer, simpler way to get you the support you need as quickly as possible. Read about each of these exciting upgrades in detail in their section below.
Mobile Make-Over
After completing our homework, we discovered that over the past 6 months, almost 30% of Parchment.com's ordering has been on mobile and tablet devices. We've reshaped our mobile site to make our ordering process completely responsive and easy to navigate. Here's a peek at some of the enhancements:
After: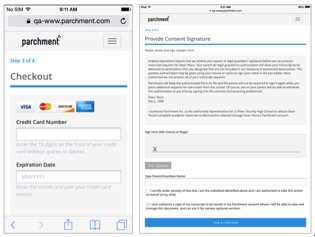 (All elements fit the width of the screen and text is left aligned to make viewing and navigation easier.)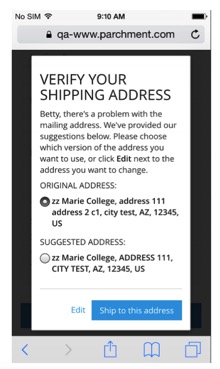 (Modal windows can be properly viewed and large buttons make it easy to proceed through the ordering system.)
Share-Worthy
The new Credential Profile within Parchment.com is an area where students can store and share the credentials they've worked hard for over the course of their academic career. While this only relates to transcripts right now, they'll be able to store future credentials they earn, like diplomas or certificates. The exciting new Credential Profile does require an interface change so things will look a little different at first.
With this release, Parchment.com will feature the following upgrades:
A "tiled" presentation where their schools are big and bold
Institutions tab – this is where they will go to order, track and view their credentials
Credentials tab – this will allow them to share their credentials on social media networks such as Facebook or LinkedIn. (Don't worry, all personal info is removed and a graphic representation of their success, dubbed a "Parchment", is created.)
Have a look: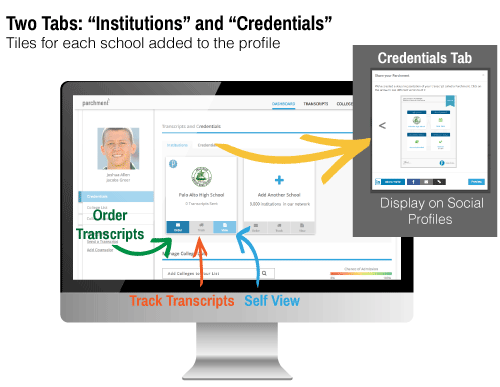 The Credential Profile is a helpful tool for students to store all of their credentials in one place and easily access them for sharing purposes. Register for the webinar on March 4th to get all of the details on this exciting new feature!
Help Center – Revamped!
ICYMI: We've completely redesigned our Help Center to make it easy on the eyes and much simpler to find answers you need or to get in touch with live support as quickly as possible. When signed in, you'll now only see topics relevant to you and your needs and get you the answers to your questions much more efficiently. Hop on over to the new Help Center and have a look!
We are super excited about these new changes to Parchment.com and the opportunities they present to our members and your students! Let us know what you think of our Spring upgrades in the comments below.
Search
Let us help you find what you are looking for.