A Spring Update for Parchment Receive
We are really excited about the updates for Parchment Receive.   Take a quick tour of the updates, and see more details below.
A Simpler Interface
Destinations are Now on the Left: To align with other document management systems we've moved the destinations from the right side of the screen to the left.  You can continue to drag and drop documents directly into the destination area.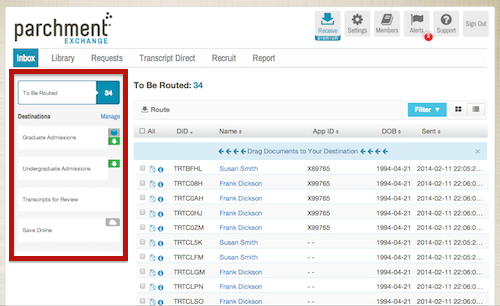 Expand to Use and Build Filters:  Filters have been moved from the left, where they were taking up a lot of real estate, into a collapsable panel along the top of the To Be Routed area.  Users can use one of the standard filters, or build a custom filter using the Filter Builder.  Choose a filter and apply the value. Clicking the "+" will let you add additional filters together, "-" will remove them.  Click the "X" in the upper right of the box to clear the filter.  Premium members may save their filters using the "Save Button."
Route to Multiple Destinations:  Once you've identified a set of documents using the filters you can route them for Web Download by dragging and dropping, or by using the Route button.  Route will let you send a copy of the document to one or more destination.  Check the box for each destination, and off they go.
Select All Documents:  The Select All check box will check all of the documents on a single page of results. If your documents exceed one page, you can click "Select All Documents" and will select all of the documents in your entire inbox that meet your filter criteria, letting you act on them all at once.  Click "Clear Selection" to unselect and remove any applied filters.
Save Online: A new destination type, Save Online, lets you store documents online without needing to download them.  Documents routed to this destination are marked as "Confirmed without Download."  Students are notified that you have received the document, and can see the "Confirmed without Download" status in their online tracking.  This option is perfect for those documents, like secondary school reports, that you want to have but do not want to print or include in your normal processing routine.  You can access these documents at any time in the Library (which will be discussed more below).
Downloading Your Documents
Download Indicators: New indicators on each destination let you know the status of your web download files.  A blue box indicates that your documents have been routed and are being processed.  The green arrow lets you know that the file has been completed and is ready for download.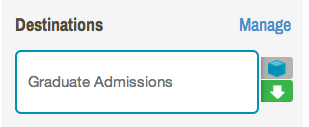 Download Status & History:  Find Download packages that are processing and ready for download. Tabs for Processing, Ready to Download, and History let you easily find the right download package. In History, you can locate download packages from the past 14 days in order to download them again if you need to.

Package Size:  Sometimes downloading very large files can result in connection errors, causing your download to fail.  To help with that, if more that 1000 documents are routed to a destination at once the download file will be broken into 1000-document increments.  The file name retains the destination and date, as well as an incremental number to identify the order of the 1000-document packages. All sorting applied to your documents is retained between files.
Library
New to Parchment Receive is the Library. Store all of your documents. For as long as you want.  There's no charge, and no limit to how much you store.
View Documents in Several Ways: View documents routed to each of your destinations.  Or use the drop down to sort by time increments: Recent, Expiring, Expired, or All Documents.

Filter and Route: Just like in the Inbox, you may use Filters to find documents. Reroute will let you resend documents to other destinations. Never ask for a document to be redelivered again – it's already in your Library!

My Folders:  Premium Parchment Receive members can create folders within the library to organize documents as they desire. These are distinct from the destination folders and you can choose to add or remove documents from these folders as you wish.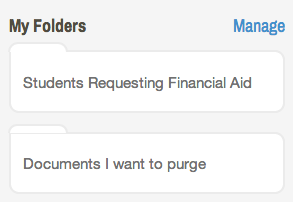 Manage Retention: We encourage you to keep everything you receive, but if you'd like to adjust your retention timelines to meet your policies you may do so on a global or destination-by-destination basis.

SFTP Awesomeness!
Premium members can automatically route incoming documents to SFTP directories without ever lifting a finger. Now setting these SFTP directories up is easier than ever! SFTP routing can now go directly to subdirectories.  In the settings, type in the full path to the subdirectory. If the directory doesn't exist check the "Create path to file if it doesn't exist" and use the Test button to make sure everything is working properly right away. No IT required … it couldn't be easier!
Please let us know what you think of the new features! They are due to hit the street mid-March, and we'd love to hear what you think!
Search
Let us help you find what you are looking for.