Our BlogThe latest news and information about digital credentials
K12 Newsletter: March 2016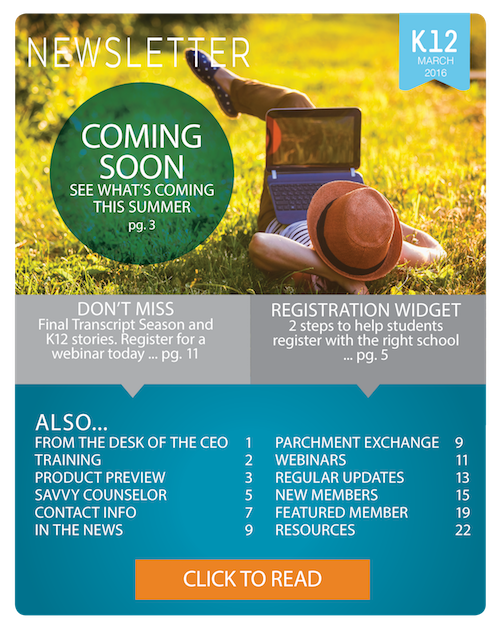 The next issue of the K12 Newsletter is here!  We're especially excited about this issue because we've got a sneak peek into what's getting updated over the summer break. I'll give you a hint … you're about to become a one-stop-shop of document awesomeness.
But you don't have to wait until this summer to take advantage of the newest coolest little widget.  One of the biggest problems we hear is that your students have a hard time registering with the school. They see "Choose your school" and think that they need to put in the place they want to send their transcript to (like the college or university).  We built a widget that you can install on your website in two simple steps that eliminates this confusion for your students.  Check out the newsletter, page 5, for all of the details on how to set up this widget.
We love putting these newsletters together for you every quarter. We're wondering if you feel the same. Let us know with this little poll. If you have additional comments about what you like, don't like, wish we included don't hesitate to let us know at feedback@parchment.com
Do you like these newsletters?