The Parchment 7 Release is Coming Soon!
We are very excited for this release because we are bringing you (and your students) a slick new user interface along with helpful new features to ensure seamless transcript delivery!
Once we launch, our Help Center will be stocked with support material for you and your students, including user guides and videos. We realize this is a big change for you and we will be ready to help you every step of the way.
Two big changes
Brand new interface!
You and your students will see updated interfaces with more intuitive navigation to make both transcript ordering and processing easier than ever.
When you sign in, you'll land on your To Do List right away. Information previously displayed on the dashboard has moved to the Analytics tab.
Some labels are changing. For example, instead of Students, you will see Learners. Here are more: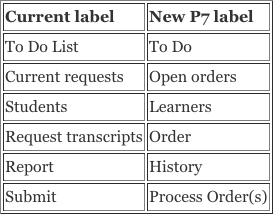 The Credentials Library is coming!
The Credentials Library is where all the documents that you upload will be stored. This means that whenever and however you upload transcripts they will reside in the Credentials Library thereafter.
You can (and should!) upload your transcripts to the Credentials Library before your students ever place orders, so that transcripts are in place and ready to go.

Tip! You should also upload a roster*, so that you can associate/match the correct student with the correct transcript. Any transcripts that remain unmatched to a student record can be removed automatically from the Credentials Library, which you can control in your settings.

When new grades are posted, the new transcripts you upload will replace the older version for each student in your Library.
Stay tuned!
Our next blog post will take you through our recommendations on how you should set up your Parchment Send account to ensure the fastest fulfillment possible. We'll also be showing you how the student ordering pages on Parchment.com are changing.
*Notice to Higher Education Senders: Uploading a roster will be new to Higher Ed institutions. We'll be providing step-by-step instructions after we launch to help you. It's not mandatory to upload a roster, but if you can, it will save time and help ensure that the transcripts reach their destinations as fast as possible.

Search
Let us help you find what you are looking for.