Parchment 7: UI Updates for Receivers
Parchment 7 is being released on July 11, 2015. We know how important it is to keep your process and procedures running smoothly, so while we made many enhancements to the interface and on the back end to improve speed and performance, you'll find that your day to day functions have stayed the same.
When you first log in, things will look a bit different.
Let's take a tour!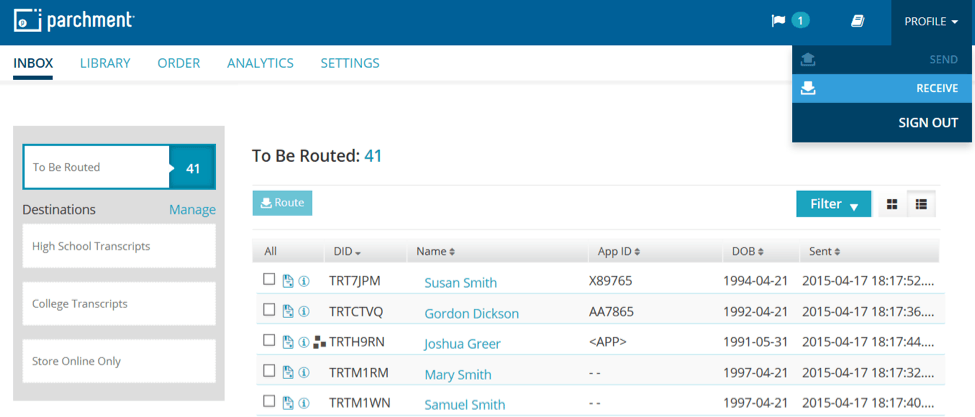 ANALYTICS: The biggest change is the removal of the dashboard. After July 11 when you log in you will go directly to the Inbox.  You can still access all of your analytics on a new ANALYTICS tab.
NEW LOOK: You'll see the color palette has been updated and some of the styling is leaner and sleeker to keep the UI modern.
NO FUNCTIONALITY CHANGES: There are no changes to how you download, route, or otherwise process incoming transcripts. All of that has stayed exactly the same.
ORDER: The Requests tab has been renamed ORDER. This feature was previously only available for our Premium Parchment Receivers, but is now available for everyone.  Now you can request transcripts for individuals or a batch of students directly from their institution.  Read the Help Center articles on Request Transcript on Behalf of Others for more information.
Let us know what you think of the updated look and feel! If you have questions please let either your Account Executive know, or contact us at feedback@parchment.com.
Search
Let us help you find what you are looking for.