Parchment Wins 2014 "ROE" Innovation Award!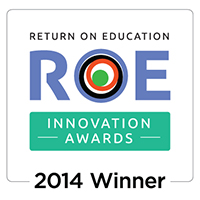 Last week Parchment joined the who's who of education technology as they convened in Phoenix, Arizona at the ASU + GSV Summit.  It's always exciting to meet with other innovative companies in the EdTech space and talk about our favorite topic: Turning Credentials into Opportunities.
Attending and presenting at ASU+GSV was an honor, but we were absolutely thrilled to learn that Parchment won the prestigious  Annual Return on Education ("ROE") Innovation Award!
The Annual Return on Education "ROE" Innovation Award had more than 350 nominations, broken into 12 categories.  Parchment was a finalist in the "Knowledge as a Currency" category, and we were hopeful to win! We couldn't be more surprised, honored and humbled that Parchment was voted by the 1000+ attendees as the overall winner of the ROE award.
Thank you to Arizona State University, the Clayton Christensen Institute for Disruptive Innovation, GSV Advisors, and the attendees who voted for Parchment for this incredible honor!
Learn more about Parchment and what we do in this video:
Search
Let us help you find what you are looking for.