Step 1: Making Your Paper Transcripts Digital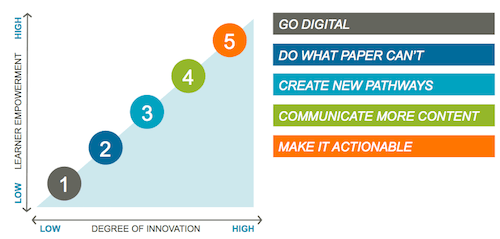 Digital transcripts are nothing new to academia. In fact, the first white paper about electronic transcripts was published by AACRAO/SPEEDE in 1997. Today, Parchment processes 1 million transcripts every 2 months. Institutions who conquer the first cluster of the CIF (Credential Innovation Framework) not only issue their transcripts digitally but also all their market-value credentials.
eTranscripts
Our members are moving transcripts from paper to paperless:
By implementing Parchment eTranscripts, Furman University was able to decrease processing time from 4 to 6 hours daily to only 30 minutes, a savings of 87%.
Moving request and fulfillment from paper to digital provides more value than just cost savings. At Texas A&M University-Corpus Christi, the registrar uses Parchment analytics, like order volume and PDFs versus paper, to understand results and benefits.
eTranscripts are being adopted across South Carolina and nationwide. For The Citadel and others, security features, such an authenticity statement and the direct download of PDFs from Parchment, bring peace of mind for both senders and receivers.
Indiana University of Pennsylvania offers its students various options for ordering transcripts, including eTranscripts via Parchment. Numbers show that students who were getting free paper transcripts are willing to spend a few dollars for the convenience of going online.
And Beyond
Transcripts are just one type of academic credential, when all are about to go digital: diplomas, non-degree certificates and verifications. Today, we are in the early days of digital diplomas, with certificates sure to follow. A 2012 Census Bureau report revealed that more than 19 million, or 9 percent of U.S. adults held an educational certificate apart from an academic degree. This includes 4.5 million who were high school graduates and 4 million with a bachelor's degree.
"In this report, we've been able to measure for the first time how many people take another route to a productive career: holding an alternative educational credential independent of traditional college degrees. It turns out that millions of people have taken this path," explains demographer Stephanie Ewert.
Stay tuned: In subsequent posts, we'll take a deeper dive into the remaining clusters of our innovative framework.
Learn more: Download "Extending the Credential. Empowering the Learner" white paper.
Search
Let us help you find what you are looking for.