Step 3: Creating New Pathways for Digital Content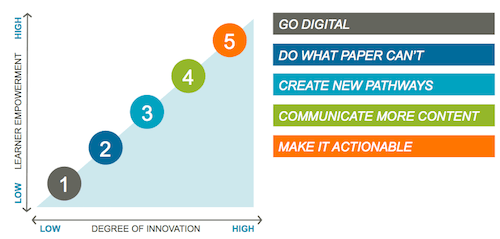 As student pathways for higher education change and evolve, so must the pathways for sharing digital content between institutions. Creating a portable online credential history allows learners to make the most of what they have acquired on their educational path. With the activities in this third cluster of the CIF, institutions are helping students maximize the value of their credits and courses, decreasing time to completion and increasing completion rates.
Arizona State University (ASU) is partnering with Parchment to work with a number of community colleges so that students, while they're still at their home base of the two‑year institution, can have their transcript data sent to ASU and put through a degree-audit program to make sure that the courses they're taking are going to maximize their transfer and completion on time to that four‑year degree.
In Colorado, a statewide Reverse Transfer Program, one of the first in the country, is the direct opposite: the ability for students to leave the two‑year program without having an associate's degree. In their four‑year program, on the way to a bachelor's degree, if students earn enough credits to get that two‑year degree, they will earn an "associate's in passing," which means that even if they don't ultimately complete the four‑year program, they will still have that foundation of a two‑year credential.
Stay tuned: In subsequent posts, we'll take a deeper dive into the remaining two clusters of our innovative framework.
Learn more: Download "Extending the Credential. Empowering the Learner" white paper.
Search
Let us help you find what you are looking for.