Step 4: Innovating What You Are Communicating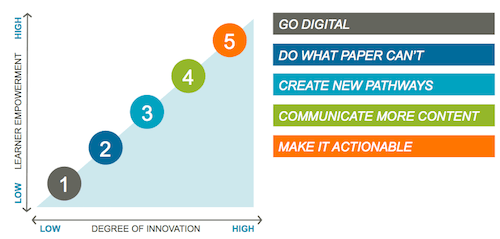 Today's postsecondary students are learning in more ways than ever before, challenging academic administrators to document a more complete educative experience. Institutions who master this fourth cluster of the Credential Innovation Framework (CIF) are documenting the complete educative experience, articulating the value of postsecondary learning for employers and admissions offices.
In 2013, Elon University became the first college to tie together its electronically released co-curricular transcript with the academic transcript in a single certified PDF. A survey of employer and postsecondary school recipients showed that 36 percent said an experiential transcript improves an applicant's chance of employment or admissions.
To document their achievements at the University of Pittsburgh, learners participate in the nationally-recognized RealWorld Action Program, which emphasizes campus, community and global engagement. Students receive a co-curricular transcript that enables them to confidently articulate their out-of-class experiences to prospective employers and graduate schools.
Northern Arizona University (NAU) produces a competency report that defines specific competencies and what it means for students to master them. For example, for a Liberal Arts major, competencies to master include working in a team structure, working with diverse populations and analyzing complicated materials.
Stay tuned: In subsequent posts, we'll take a deeper dive into the last cluster of our innovative framework.
Learn more: Download "Extending the Credential. Empowering the Learner" white paper.
Search
Let us help you find what you are looking for.