Step 5: Making Credentials Truly Actionable for the Learner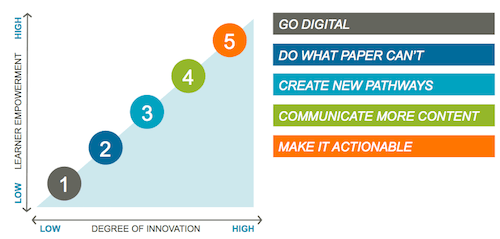 "In a world where people increasingly interact over distances, electronically, the ability to control your online educational identity is crucial," says Kevin Carey in a recent New York Times article. Thus, the activities in the fifth cluster of the Credential Innovation Framework (CIF) are all about rethinking the traditional barriers to what we can do with credentials, including storing credentials in one place, online, where they can be easily shared.
Today, online profiles are where learners today are establishing their professional identity. At the same time, every university is filling up a database with verifiable degree completion information. Why not just give graduates a secure electronic diploma, so when employers and postsecondary institutions see it they know it's for real?
Circling back to our first blog post in this series, our data showed that students are going to share their credentials, online and socially, doing what they have to do to be marketable. That means registrars must start meeting their students' need for digital credentials. And what better place to begin than Credential Innovation Framework.
Watch for 90 Seconds: Learn how learners can store and share their credentials with Parchment
Search
Let us help you find what you are looking for.