Transcript Ordering Has Never Been This Fancy!
We are really excited to announce that some much-needed updates to the transcript ordering process were released yesterday.  For high school students using Parchment.com to request and track transcripts the change is a continuation of the updates and improvements they've been getting this year. For postsecondary students using exchange.parchment.com … the improvement is going to be a game changer!  (But don't worry! Schools don't have to switch their ordering interface. The old system will be around for a long time  … but once you see the improvements you're going to want to start directing your students to the ordering available at Parchment.com!)
What's New?
1. The new streamlined workflow reduces the number of screens a new user must get through from 19 to 9 screens.
2. We also said goodbye to the old payment page by collecting payment within the Parchment.com ordering interface. The underlying security is still as strong as ever, it just has a better  e-commerce experience that feels better to savvy students.
3. Users can order and store their high school and college transcripts in one place which will let students request all of their credentials in a single transaction.
4. Clear progress indicators let users know exactly where they are in the ordering process – and that they're only a couple clicks away from their transcript.
5. And have you seen the new Order History page? It puts the Domino's Pizza Tracker to shame. Now students can easily find out the status and location of their transcript which we're hopeful will cut down the number of "Where's my transcript?" questions and give students peace of mind.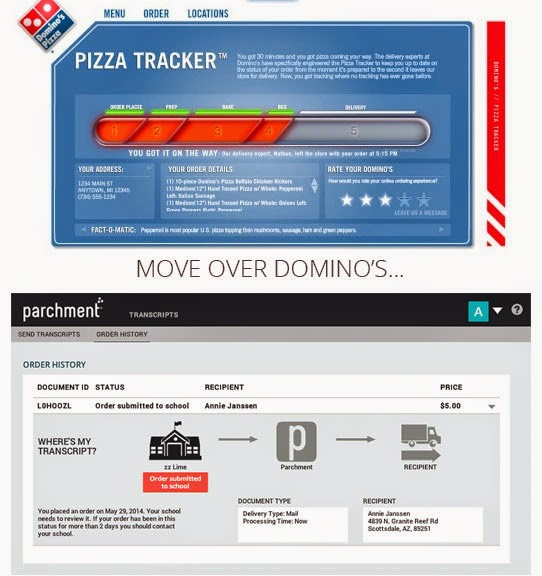 I Want It!
For secondary schools, there's nothing special you need to do. All of these changes are available today at Parchment.com.  Your students can take advantage of it right away.
For postsecondary schools, you can make this available to your students by directing them away from exchange.parchment.com to parchment.com to create their accounts and place orders.  Note: Single Sign-On integration isn't supported yet at parchment.com
Looks Fancy, But I Want to Learn More!
To help you and your students  feel comfortable with the new features, please see the updated resources here:
The Postsecondary Resources Page
Watch the tutorial video here:
We're really excited to have these improvements in place. After all, everything starts with placing the order. Getting off on the right foot will make it a better experience for everyone.  Please let us know what you think of the changes!
Search
Let us help you find what you are looking for.