Where in the world is Matt?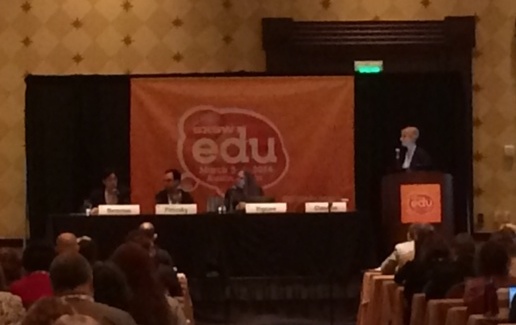 Don't blink, because Matt is on the move.  Following a great panel on Tuesday with Mozilla and ProExam at the 2014 Innovations in Testing conference in Scottsdale, AZ, Matt hopped a plane and headed for "weirder" pastures.
Wednesday morning found him in front of a packed room in Austin, TX on a SXSWedu panel, "Show me what you learned," hosted by The Bill and Melinda Gates Foundation (BMGF). Stacey Clawson moderated an interactive conversation with Karen Vignare from University of Maryland University College (UMUC), Adam Newman from Education Growth Advisors and the illustrious Matt Pittinsky.
BMGF kicked it off talking about the critical role credentialing plays in propelling social mobility and economic development.   Then each panelist described their organization's work to support student success.  For UMUC it's competency-based credentialing;  for Parchment it's our technology platform that brings credentials online, in one place, for learners, issuers and receivers;  for Education Growth Advisors it's providing a framework and research for evidence of learning.
My favorite segment of the session was the true or false questions Stacey put forth to the audience first, and then to each panelist.  I've listed them below.  There are no wrong or right answers.  The audience and panelists split on most of them. Comment some of your thoughts and I'll reply with how some of the panelists' responses.
And don't forget to "tune in" tomorrow for the debrief on the "Enabling Stackable Credentials" panel. #credFuture
True or False?
1. Employers will eventually drop postsecondary degree requirements for many positions – because they will trust validated competency assessments and analytics more than the degrees themselves.
2. Learners will not reliably maintain profiles or portfolios unless they are looking for a job, seeking college credit, or applying to a school. Lifelong learning will not be enough of a motivator.
3. Colleges and universities will be pushed to clearly articulate degree competencies and offer services that help students document learning for employment.This is especially true for general ed and liberal arts.
Search
Let us help you find what you are looking for.