Parchment Spotlight: Sarah Kiley, General Manager, K12 & Professional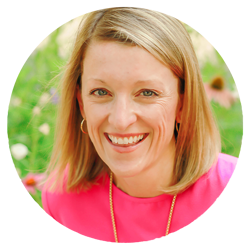 Unlike a lot of her Parchment colleagues, Sarah Kiley doesn't have a background in education technology. But her area of expertise – taking an analytical view of the market and technology then determining how to best meet the market's need – is a perfect match for her role as General Manager of K12 and Professional markets.
Off to a great start in her role in 2019, she grew the K12 team to make sure Parchment had appropriate coverage for varying sizes and types of districts. The Professional team helps high school and college graduates on pathways (military service, professional certification and licensure) that lead directly to employment. All in a day's work for Sarah. Then came 2020 and COVID-19.
Leading Through a Global Pandemic
Sarah understood that the immediate focus for K12 Schools and Districts began with the safety and well-being of the community (students, teachers and staff).  It was impressive to watch their quick work – they provided a wide range of resources from grab-n-go meals, to continued learning via education technology, and even printed paper packets.  In the midst of this hustle, Sarah knew that the last thing school administrators needed was another vendor reaching out.  So in mid-March, Sarah and her team made the tough decision to pause outbound communication to K12 Schools and Districts. If individuals reached out to the team, they were responsive, of course, but they stopped marketing Parchment's platform and services. 
As the typical school year winds down, counselors and school administrators rely heavily on Parchment to send final transcripts for their senior class.  And pre-pandemic roughly 25% of high school students could request their transcript via the Parchment platform.  1 in 4 students is amazing, but it also meant there were students still submitting paper form requests for their transcripts and counselors printing and mailing transcripts from their offices.  Sarah and her team heard from many schools that weren't sure how they were going to get transcripts out this year.  
After a lifetime of giving back through volunteering and community service, Sarah is always looking for opportunities to help others.  Sarah made the decision to offer the Parchment platform at no cost to students, alumni, schools and districts through the end of June.  "Parchment's mission is to help learners turn credentials into opportunities.  We  saw an opportunity to step forward and do more during this unprecedented and challenging time," said Sarah.  "Our goal was to make it easy for counselors across the nation to process requests for transcripts and learners to continue on their path toward their next opportunity."
We were so touched to hear from counselors across the nation the impact we had. 
From mid-March through the end of June, the Parchment Platform was used by more than 5,000 schools and districts to send over 600,000 transcripts.  These transcripts were delivered to colleges and universities, scholarship providers, the military, professional certification and licensure bodies and employers – all helping learners turn their credentials into opportunities.  
Expanding Responsibilities
While leading her "Parchie" Team (that's what we call ourselves at Parchment) through the global pandemic, Sarah was also actively helping her two elementary-aged children navigate the remainder of their school year.  And like so many working parents, it was a roller coaster of good and bad days.  Sarah's daughter was in first grade and started a Japanese language immersion program this year.  Did you know there are 3 Japanese alphabets? (Now Sarah does – but don't ask her for tutoring help – her plate is quite full at the moment!) Sarah's son was in third grade and working to master his multiplication facts.  She was so thankful for apps like DreamBox that make learning math fun.  
As a young girl, Sarah dreamed of being a teacher and spent many hours playing school with her friends.  After just three months of doing her best to help with schooling her kids, in between online classroom sessions and conference calls, Sarah is even more appreciative of the patience, energy, and truly remarkable skills our teachers have.  "When you have an opportunity to attempt to walk a mile in someone else's shoes, you truly come to appreciate the big and the little things that make that person so successful at what they do," Sarah says. 
Sarah's children, like many across the nation, yearned to be in the classroom with their teachers and their friends.  It was a tearful good-bye when they logged off their last virtual classroom.  
"We have become so accustomed to and reliant on the skilled professionals that make our society a better place – from teachers to first responders to barbers and hairdressers.  While it's been fun to spend more time with family and connect with others through empathy and compassion, we're looking forward to settling into the new normal and a return to the things we love best, like school and symmetrical haircuts!" she concludes.