BACK
Higher Ed
Dreams Come True: The Registrar's Role In Student Success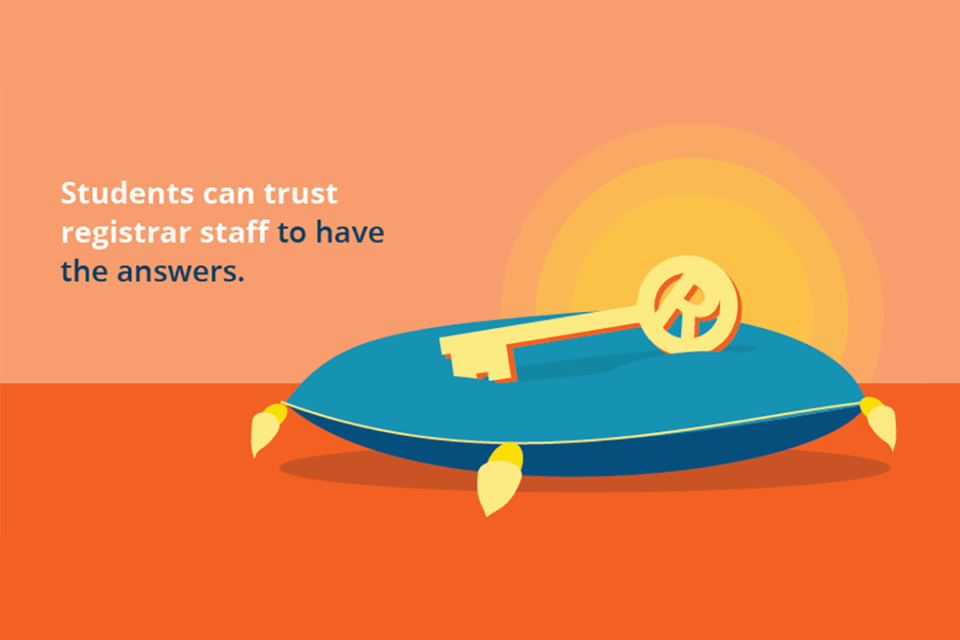 With academic records and esteemed credentials entrusted to them, registrars hold some of the shiniest keys to student success leading up to and well beyond graduation. They're responsible for ensuring the integrity of student records, enforcing academic policies, managing courses and providing stellar student services. Fulfilling such responsibilities aids both the school and its students in achieving desired outcomes.
With help from dedicated staff, efficient processes and credential management technology, university registrar offices can successfully contribute their part to making students' dreams come true. Here's a look at the registrar's role in student success:
Meeting important deadlines
College students must tackle many deadlines, and registrars can help ensure they aren't late for certain very important dates. These include deadlines for signing up for classes and declaring majors as well as applying for study abroad programs, internships and graduation. Quick turnarounds for credential requests also allow students to complete academic, internship and job applications on time.
When there are too many forms to count, registrars can help students stay organized. Plus, automating these processes with integrations into your SIS offers students a seamless, fast online experience they can easily follow.
Prepping the credentials
As the keepers of student records, registrars are responsible for maintaining the integrity of transcripts, diplomas and other credentials. Timeliness, accuracy and completeness are crucial for credential processing and management, which means registrar staff should be ready to go as soon as requests come through. They also manage all types of requests from verification companies, scholarship associations, etc. They are required in different forms as well: paper or print. They really need one unified solution that can manage ALL requests, from ALL requesters and ALL formats.
Partnering with the right vendors has a lot to do with how efficient registrar offices can be in providing students with their requested credentials. For instance, some vendors can take four to six weeks to process and deliver diploma requests. With Parchment Award, students can have print diplomas in their hands in as little as five to seven days. Plus, you can give them immediate access to the verified digital version.
You can also transform your transcript processes with Parchment Send, which allows for touch-free SIS automation and elevated security. Plus, working with one partner for both diploma and transcript services eliminates a whole lot of unnecessary confusion and slowdowns. Unified analytics are also included, allowing real-time access to important data points like order volume, destinations, and types of credentials ordered, making for easy and efficient reporting.
Making it more than a transaction
Credentials are more than transactions between schools and students or candidates and employers. They're the currency in meaningful exchanges, unlocking the opportunities your students have been dreaming about.
Registrars can make the process even more fulfilling for students by providing a supportive, hassle-free experience. Think of it like offering superior customer service as you provide direction, resolve problems and offer assurance. When registrars succeed in their roles, they make it that much easier for students to make their personal and professional dreams become realities.
There's always more to learn.
Ready to feel the power of Parchment?
I'm a student or a learner
I work at an institution or business