BACK
K-12, Parchment News
Announcing the Pathway to College Scholarship by Parchment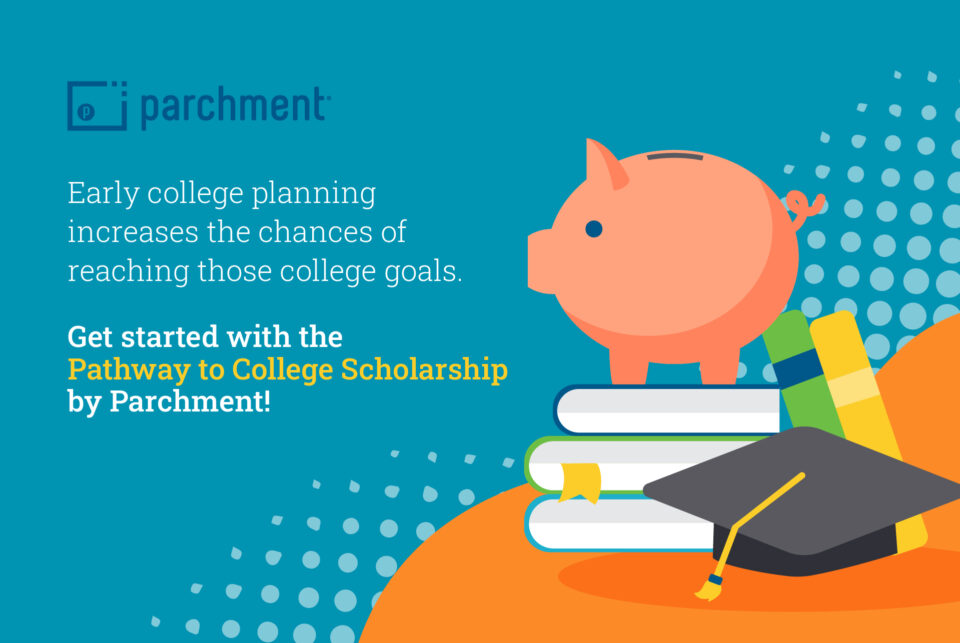 When it comes to planning for college, the earlier students can prepare, the better. Thinking about college early empowers students to consider various degree options, make adjustments as they change their minds and reach their college goals. For example, when a student knows which major to pursue, they can choose high school courses and extracurricular activities that support that degree. Not only does this help students become better prepared for college, but it also makes them more competitive college admission applicants.
Ideally, students should start planning for college in 9th grade. Early preparation allows plenty of time for students to meet with college planning experts and set long-term objectives that align with their college plans. This will also motivate students to get involved in extracurricular activities and maintain proficient grades throughout their high school career, increasing their chances of being accepted to the college of their choice.
At Parchment, we strive to help students develop a college-bound culture that starts during freshman year. To demonstrate our commitment to the educational community, we created the Pathway to College Scholarship.
The importance of scholarships for students and schools
Scholarships reduce the financial burden of college tuition and help students attend schools they may not have been able to afford otherwise. According to the Education Data Initiative, scholarships and grants cover $7,500 (24.95%) of annual academic costs per student in the United States. In fact, scholarship statistics from Think Impact indicate that in 2020, 58% of families used scholarship money to help pay for college.
By making tuition more accessible, scholarships encourage more students to consider education after high school. This is especially important for students from low-income households and first-generation college students, who account for one-third of all students, according to the National Association of Student Personnel Administrators (NASPA). 
Georgetown University's Balancing Work and Learning report states that low-income college students work longer hours than their higher-income peers. As a result, low-income students are less likely to achieve good grades. But with more affordable schooling — thanks to scholarship programs — students can focus on their studies rather than working.
Aside from the financial benefits that scholarships provide, they also make a great addition to any resume. Educational awards set students apart from the competition, showcase leadership skills and enable students to land competitive internships. Not only are internships great for learning, but they can lead to full-time employment. SmallBizGenius reports that 70% of employers offer interns full-time jobs, and internship trend data from Zippia shows that interns tend to earn 6% more than students who did not intern.
Why Parchment created this scholarship
Whether you're a student, parent, faculty member or school administrator, Parchment is here to help. Our Pathway to College Scholarship empowers students to turn credentials into opportunities while reinforcing our mission to provide financial support and create a college-bound high school culture.
Scholarship details
If you're currently a high school student, there are three steps to qualify for our Pathway to College Scholarship:

Sign up for a Parchment account (if you haven't already!).
Add three schools to your college list in your Parchment account. It's easy! Check out this quick video here.
Submit this easy-to-enter application.
Learn more about the Pathway to College Scholarship
With our Pathway to College Scholarship, we can reinforce our mission of creating opportunities for students and connecting college-bound students with the financial support they need.
What to do next!
If you're a school district administrator…
Share this information with your students and encourage them to apply. 
If you're a high school student,
Let our scholarship kick start your college fund by setting up your Parchment account, adding 3 schools to your college list, and submitting your application by May 1, 2022.
There's always more to learn.
Ready to feel the power of Parchment?
I'm a student or a learner
I work at an institution or business