BACK
Higher Ed
3 Ways Parchment Analyze for Send Can Help With Student Feedback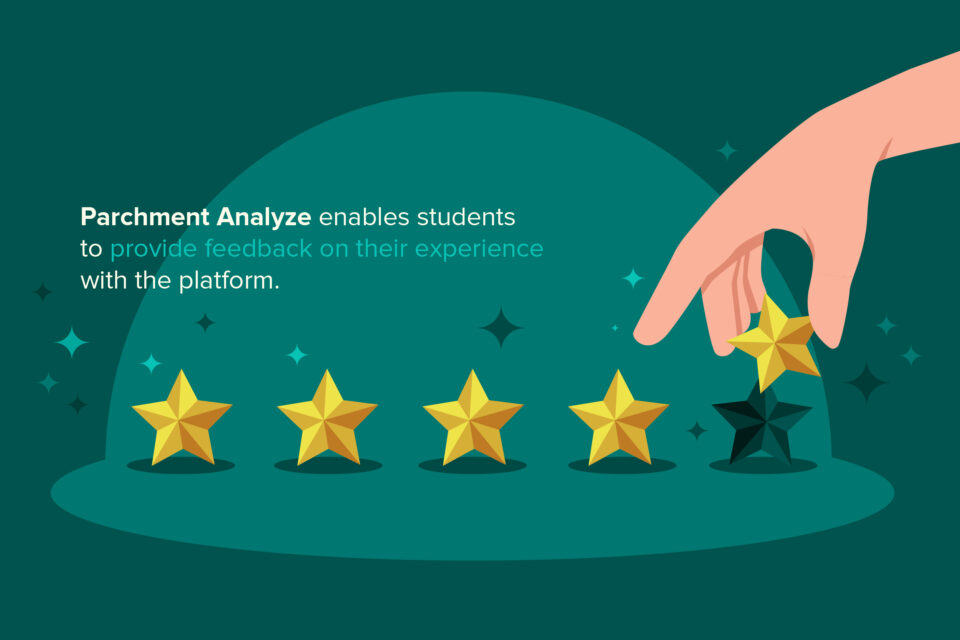 Working in the registrar's office gives you the opportunity to collaborate with students as they move forward in their educational path. You want to make your job as streamlined as possible and your students want the ease of an effortless experience. While both parties want the system to work without error, hiccups do sometimes occur.
Students, like registrars, can face frustration when trying to access their credentials. While it's easy for the latter group to reach out to Parchment to vocalize their struggles, it's more difficult for students to do the same.
To ensure student feedback isn't your blindspot, Parchment Analyze for Send provides registrars with the tools needed to measure student experience. Equipped with key data insights, you can innovate the way they do things, and, as a result, continuously work to evolve the student experience at your institution.
Want to find out how Analyze for Send can support student feedback to turn your office into a well-oiled machine? Check out some ways this platform can help:
1. Increased communication
There's no doubt that the best way to get feedback is to provide participants with the opportunity to give it. With Parchment Analyze, students can voice their opinion on the way the registrar is running things easily and instantly. A platform with open communication develops a culture of collaboration, in which the registrar can use Analyze's insight and results to evolve their systems to meet students' needs and expectations.
2. Unthought-of process improvements
As a registrar, you probably only see things from your side of the platform. For that reason, you won't come into direct contact with many of the issues your students face in their use of the software. With key insights from students at your fingertips, you'll gain awareness of potential upgrades and alterations you might not have thought of by working from the registrar-facing side of things. Do students think confirmation of their request is taking too long on your side? By gathering frustrations like these through Analyze, you can make the improvements you need to ensure students are happy.
3. Unified platform
When your students want to access their transcripts, provide feedback and contact the registrar about any setbacks they're facing, they won't want to jump back and forth between several different platforms. That's why Parchment's single interface is the best for students and registrars alike. Rather than sending your students on a wild goose chase to find something – or going on one yourself – Parchment can help save time, frustration, and effort when you provide students with one singular point of access.
Ready to face the music? Turn to Parchment Analyze for the key insights you need to streamline your processes. With open channels of communication, receiving feedback and putting it into action will make your job easier and improve your students' experience using your platform.
There's always more to learn.
Ready to feel the power of Parchment?
I'm a student or a learner
I work at an institution or business