BACK
Parchment News
All Eyes Are On Credential Innovation
In higher education and in hiring offices nationwide, all eyes are on credential innovation. From the transcript to the diploma to non-degree certificates, are these credentials telling the whole story of what a student knows and how well they know it?
Academic credentials have never been more important than they are today. They act as a key for educational and career advancement and the relationship between credentials and opportunities has never been tighter.
On July 22, Paul Fain, news editor with Inside High Ed, moderated a Coffee Talk session with Matthew Pittinsky, CEO of Parchment, to discuss a Credential Innovation Framework.
"I think there is more interest and need for students to display their lifelong learning on a credential," said Fain in his opening remarks.
Introduced in April 2015, the Credential Innovation Framework is composed of five activity clusters designed to advance learner empowerment. The activities are ordered across a plane with axis highlighting the degree of verification and the level of learner empowerment.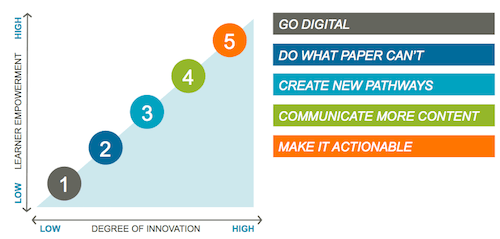 "We are still at the infrastructure mode of making credentials digital," explained Pittinsky. "Today we see the beginning stages of moving beyond transcripts to enable electronic ordering and fulfillment of all credentials, including diplomas and non-degree certificates."
To learn more about the Credential Innovation Framework, you can listen to Coffee Talk on Demand and download the Parchment whitepaper, "Extending the Credential Empowering the Learner."
There's always more to learn.
Ready to feel the power of Parchment?
I'm a student or a learner
I work at an institution or business