BACK
Admissions, Higher Ed, K-12
Are Micro-Credentials Right for Your Institution?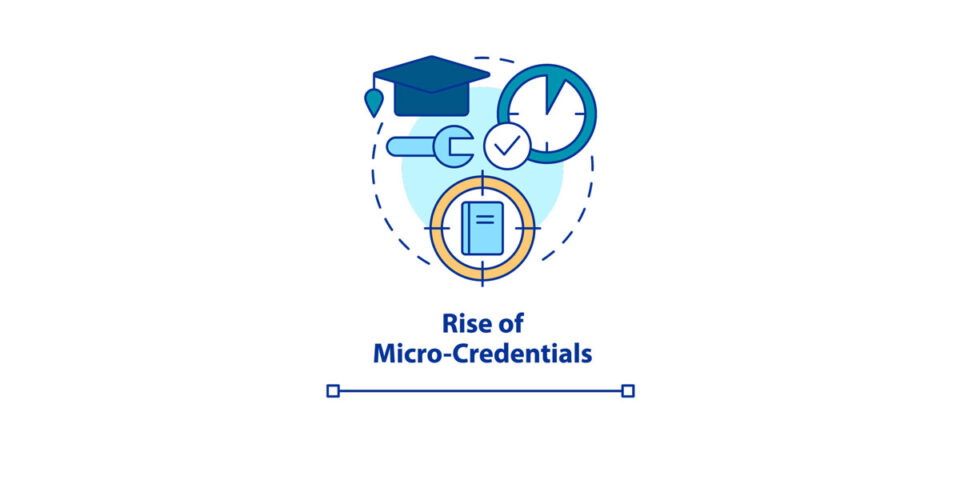 Micro-credentialing solutions are becoming increasingly popular in the world of education because of the accessibility, flexibility and affordability they can provide learners. But, are they the right fit for your organizational strategy? 
Read on to learn more about the key drivers and benefits for institutions implementing micro-credentials, so you can determine how to move forward with these emerging digital solutions. 
Getting to know micro-credentials and their growth 
Micro-credentials — shorter, focused certifications that aim to provide in-demand skills, knowledge and experience — have seen accelerated interest and investment in recent years. In fact, Holon IQ released a report projecting the global online degree and micro-credential market to reach a massive $117 billion by 2025. 
The development of alternative credentials and non-traditional degrees in the education sector has been driven by:
The rise of online learning.
The changing nature of work.
The possible limits of some traditional degree programs. 
Why institutions are implementing micro-credentials 
Primarily, institutions are launching these strategies to empower students: helping them gain new skills and credentials that pertain to their areas of interest or unique career goals in a flexible, affordable and efficient way. This allows learners to earn competencies in a way that is convenient to them and their lives, at a fraction of the cost of some traditional degree programs. What's more, they're perfect for working professionals who want to upskill and stack credentials that empower their careers.  
It's not just learners and employers who benefit; professionals across your institution can more effectively reach departmental goals by introducing alternative credentials. They most notably help registrars and admissions meet the demands of progressively diverse student bodies while demonstrating a commitment to innovation and the evolving job market. However, professionals in career services and student engagement also get a better understanding of the specific skills and knowledge that learners are looking for, and enrollment departments can use micro-credentials to attract and retain prospective students in pursuit of more flexible, affordable learning opportunities. 
Are micro-credentialing solutions the right direction for your organization? 
Modern Campus reveals that 71% of higher education leaders believe alternative credentials will help them achieve institutional revenue and enrollment goals, while 92% claim they will benefit competitiveness. This means whether verifiable credentials join your institution's digital strategy or not, they're here to stay. 
Consider the following questions to determine whether these digital solutions are the right choice for you:
Does offering alternative credentials align with your institution's strategic goals and mission?
Do you have the resources and infrastructure needed to provide micro-credentials effectively?
Would introducing micro-credentials help you meet your students' needs?
Is there a market demand for the specific skills or knowledge that your institution could offer?
Can delivering alternative credentials help you establish a stronger competitive advantage in the education sector?
Introducing solutions that support verifiable digital credentials 
Micro-credentials have quickly become an important way to bridge higher education and industry. And, according to a report from Credential Engine, 59,692 providers offer almost 1.1 million unique educational credentials across the U.S. today. 
While an increasingly important factor in your institution's competitive strategy, the sheer volume and diversity of credentials can make them daunting to manage. With Parchment, you can leverage one centralized platform to easily issue all of your verifiable digital credentials, including digital badging and certification as micro-credentials. Partnering with Parchment allows you to foster a more transparent credential infrastructure that communicates earned skills while supporting learners throughout their lifelong learning journeys. 
There's always more to learn.
Ready to feel the power of Parchment?
I'm a student or a learner
Order