BACK
K-12
Build Your College Wish-list With Parchment's College Tools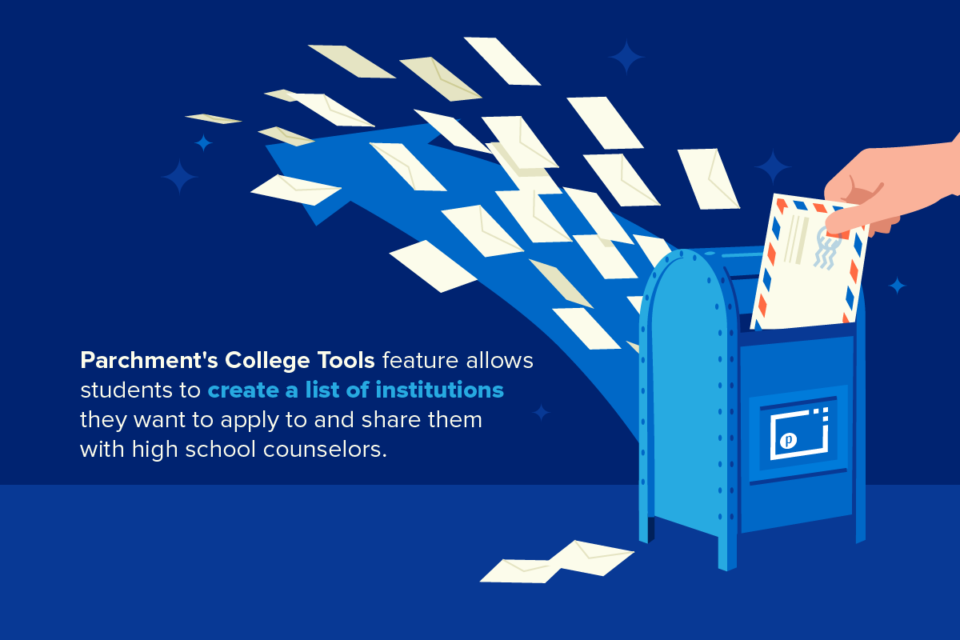 Students have a lot to think about during their junior and senior years of high school. With ACT and SAT tests to crush, and trying to narrow down potential colleges and universities, it's understandable why so many young adults feel stressed. But never fear, because Parchment is here – with some features to help!
Introducing College Tools
We've made it easier than ever for students to create their college list and share it with counselors. With College Tools, students can compare and contrast schools, helping them not only discover new options but eliminate choices that may not meet their preferences. Want a university that has a strong Pre-Med track, as well as the college athletics you're looking for? Looking for a college that offers both cool study-abroad opportunities and interesting internships? College Tools can assist students in finding the perfect fit.
By simply registering and providing some information related to your academics and interests, Parchment's College Match tool tells you what your chances are of being accepted into your top schools based on your GPA, SAT scores, extracurricular activities and other self-reported data. Your chances are based on other data reported by your peers. You can even filter your options to see specific geographic regions or take a look at a variety of universities across the nation.
Gain the help you need
You're not alone in your college search. School counselors and other high school personnel can help you find the right school for your wants and needs.
College Tools is just as simple in practice as it is on paper — or screen, rather. In a matter of minutes, you can not only build a list of colleges that interest you, but also easily forward that breakdown to anyone you'd like, whether it's your school counselor or one of the teachers writing your recommendation letter.
With this information in mind, counselors can take the steps they need to help you achieve your university goals. In addition, understanding the probability of getting into different schools can help you save hundreds of dollars in application fees. With a more focused number of schools on your college list, you'll be equipped to apply for your top choices and gain admission to institutions that are perfect for you.
Here's how
Here are the steps you'll need to take to use College Tools to build out your college list:
Log into Parchment and click College List. If you haven't already done so, make a Parchment account. It only takes a few minutes, and it's free!
Enter colleges in the search bar. When you're adding different universities to your list, you'll need to add them one at a time.
Export your list. From here, you can check the "Send to Counselor" box and enter your counselor's name and email address. If you'd like to send your list to anyone else, you can check the box "Send to Email Address."
Click submit. That's all you have to do. In moments, your list will be sent to your counselor and any of the other contacts you've provided.

With Parchment's College Tools, you can keep your college list short, sweet and to the point!
There's always more to learn.
Ready to feel the power of Parchment?
I'm a student or a learner
I work at an institution or business