BACK
Parchment News
Guide to Parchment's Complete K12 Student Record Management System
As we go through our lives, we collect official records. One of our first sets of official records come out of our high school experience: transcripts, diplomas, letters of recommendation, IEPs, etc.
Parchment has developed a platform that makes it easy for high school or district registrars and counselors to manage all of the official records for current and alumni students.
As records move from paper systems to electronic, it can be overwhelming to decide which system is best for you.  What is the student ordering experience like? Is there a lot of work the administrator needs to do? How confusing will this be?  
We know you have some concerns about exploring new systems. But our Buyers Guide breaks it all down and will help you explore and evaluate student record management systems.  
Learn How to:
Manage All of Your Records
Allow Anyone to Order (Students, Alumni, Parents, and Third Parties!)
3 Simple Steps: Order – Review – Fulfill
And more features important to you!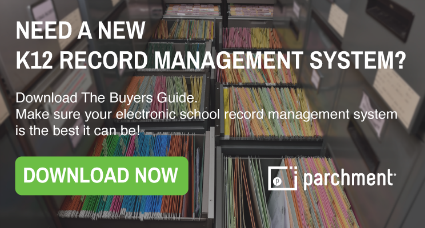 There's always more to learn.
Ready to feel the power of Parchment?
I'm a student or a learner
I work at an institution or business