BACK
Parchment News
Jump Start Your Career and Impact the Future of Education with Parchment
Every startup has the audacious goal to try and build something from nothing.  At Parchment, we're working from the ground up to change how the world values credentials, and we still find time to have fun.  
"We're a startup environment with a fun and engaging culture. We work hard and we play hard, as a team" says Gina Heller, Parchment Director of Human Resources. "We're also a company that values technology, original thinkers, open communication and a great reputation in the marketplace."
As of today, there are more than 150 employees — or Parchies, as we call ourselves — working to help transform transcripts, diplomas, certificates and other credentials into opportunities for the learners who collect them.
An Unprecedented Opportunity
We've made huge progress so far. Since our founding, institutions and learners have digitally exchanged more than 20 million transcripts and other credentials.
We expect that number to increase exponentially once every credential is made available digitally, as machine-readable data. And when we say every credential, we really mean every credential — from university transcripts and diplomas, to professional certifications, to online courses. Anything that expresses an earned skill should be made available in a portfolio so that learners can share what they know and how well they know it with employers and on social networks.
At Parchment, we provide this opportunity to learners and enabling technology to institutions, so they can confidently and securely issue digital credentials to the learners who earn them.
We think that's a wonderful selling proposition, but we also have a long way to go to get everyone on board. Today Parchment reaches 25 percent of high school enrollments and 17 percent of postsecondary enrollments in the US to help learners collect, store and share their credentials. Hiring the right people is key to reaching more learners and institutions.
"We're trying to create a culture where people are motivated by, and feel a fiduciary responsibility to, the impact we have [as a company]," says CEO Matthew Pittinsky. "We're impacting people's ability to translate education into opportunities."
A Gathering of Mensches
Working at Parchment requires passion, drive and commitment. To be a Parchie means not only being start-up minded but also being willing to invest your time and talent to scale the world's first digital credential service, and reach billions of lifelong learners in the process. To willingly accept an assignment of this magnitude is to be what Pittinsky calls a mensch — Yiddish for "people with integrity and honor".
Of course, those who take on big challenges deserve big benefits. At Parchment:
Every Friday we bring lunch in and dine together.
We work hard, and we play hard. Our Culture Club plans themed events each quarter.
We believe in a positive work environment and recognize each other in a job well done.  In our EOT "Every Other Tuesday" all-hands company meeting, we share  the FTGAPI, where employees recognize one another in the "Find the Good and Praise it."
We care about our Parchies and how they feel about their career, their role, and the company. Each quarter, we present the 5-5-4 survey where we ask five questions of each employee, five questions of each manager, four times per year to collect feedback. This allows us to make Parchment the best place to work.
We love creative original thinkers.  Our CEO has a literal open door policy. Want to run an idea by Matthew? He wants to hear from you.
We have a supportive culture that not only seeks diverse ideas but also embraces them. For example, an internal group of female employees dubbed "ParchSHE" meets regulary to empower women to be architects of change at Parchment and beyond.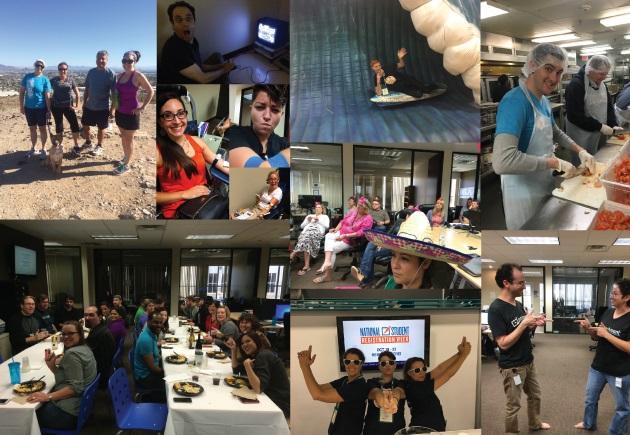 Want to join the Parchment family? To find out more about Parchment, and for a complete list of open positions, check the Careers page at Parchment.com.
There's always more to learn.
Ready to feel the power of Parchment?
I'm a student or a learner
I work at an institution or business