BACK
K-12
K12 Record Management No Longer Just For Higher Education Admissions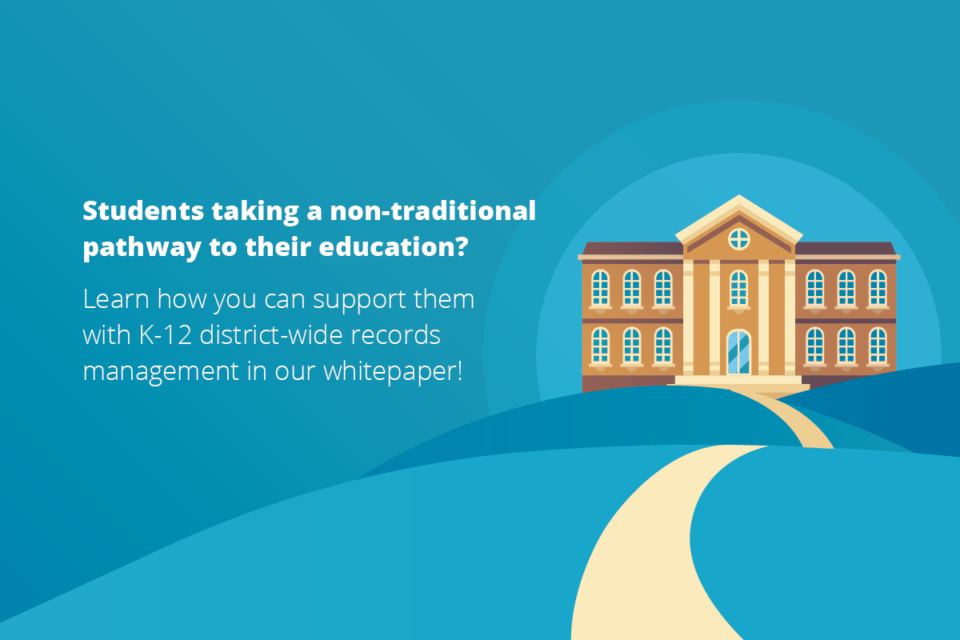 Today, educators are working within an ecosystem that no longer consists of straight and defined paths traveled by students looking only to earn a college degree. Some students start college courses while in high school through dual enrollment, and others "swirl" from institution to institution and back again. High School graduates might also choose to join the military, become an apprentice, or stack certifications to open skilled workforce opportunities.
Each of these stops along the lifelong learning pathway are typically backed by the secure exchange of an academic record. Pathways have evolved, but the management of student records has not. The process is still manual, paper-intensive, and fragmented across high schools and districts. High school counseling teams fulfill current student requests, while at the district level, staff support record requests for alumni.
Parchment K-12 District Record Management Solution: Centralizing and Streamlining Your Student Records
15 years ago, Parchment set out to take the first step in innovating K12 records management by offering a service that schools used to securely send transcripts electronically. In February of 2019, the company announced the next phase of innovation; the integration of both counselor and district-based record management, enabling school districts to support the enrollment and employment journey of both current students and alumni with one comprehensive platform. Early adopters have realized the following key benefits, making the platform the first of its kind:
A comprehensive platform that supports every requestor (current, alumni, third parties), every record (transcripts, letters of rec, verifications), every type (print or digital) to every destination.
Smart order routing getting requests to the right place across the district to be fulfilled by the district or the school based on predetermined routing rules.
A modern, mobile-friendly ordering experience for students that includes tracking and status updates.
The ability to seamlessly move records from high schools to the district office.
The opportunity to leverage revenue to cover other areas of the service.
"Based on more than 15 years of experience serving the largest network of high schools and their university destinations, we consistently heard the need for digital records management at the district level," explained Parchment CEO Matthew Pittinsky. "When districts choose to go digital with a comprehensive solution, barriers are removed from learners trying to reach their next opportunity.
Early Adopting Districts
Mesa Public Schools in AZ and Granite School District in Utah are two examples of early-adopting districts.
Mesa Public Schools is processing over 6,300 records annually across 6 high schools and noted that "the single biggest value is systematizing our document requests within a system that is reliable and timely in the delivery of its service."
Granite School District is processing over 11,500 records annually across 9 high schools and remarked that the key results realized from implementing the platform solution were widespread. "We receive our stats on the number of eTranscripts sent yearly and our seniors benefit from no fee or limit on the number they send.  Registrars really like the system as it is easy to use and manage."
Interested in learning more about student records management, what to look for in a solution and how to find the right partner for you? See our new K-12 District-wide Records Management white paper.
There's always more to learn.
Ready to feel the power of Parchment?
I'm a student or a learner
I work at an institution or business