BACK
K-12, Parchment News, Send
NeedMyTranscript Joins Parchment!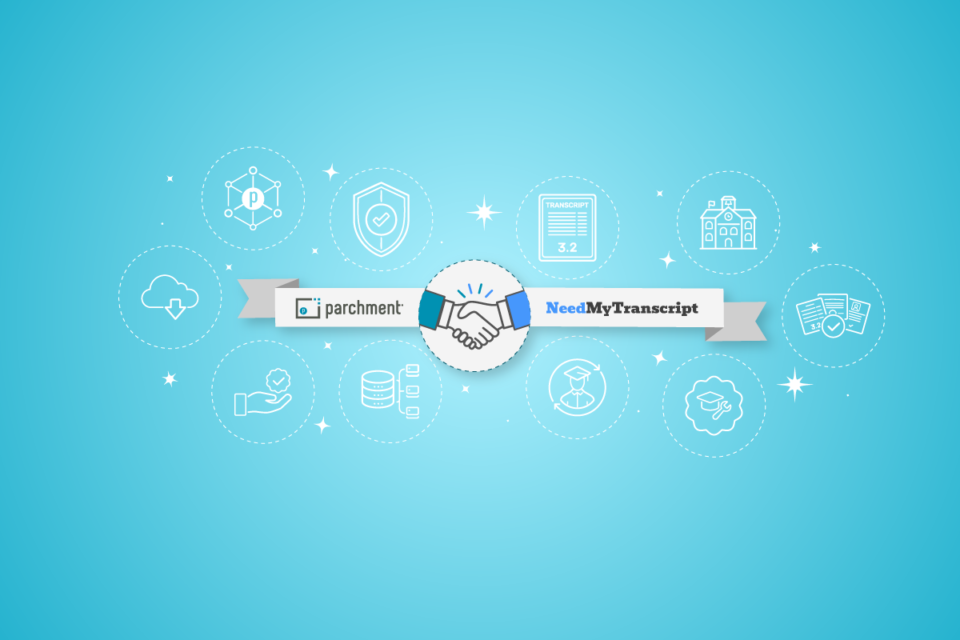 Addition of NeedMyTranscript Helps Students and Alumni From Every School Easily Order Their Transcripts
Parchment, the leader in academic credentials management, is excited to announce that NeedMyTranscript is joining Parchment!
NeedMyTranscript supports students and alumni from over 18,000 high schools with a fast, secure and easy way to request and release student records to agencies, institutions, and employers.  NeedMyTranscript will continue to fill an important role for those who are searching for the right way to request student records
Going forward, NeedMyTranscript will continue to operate as a standalone service within Parchment. NeedMyTranscript will continue to directly support high school and agency partners, as well as learners who order from the NeedMyTranscript portal.
"NeedMyTranscript offers a simple way for students to send their records and smooth the pathway to the next step in their lives." Demetri Stephenson said. "That is exactly why joining Parchment was a natural fit for NeedMyTranscript. We are both focused on removing barriers for learners on their lifelong learning journey and protecting their privacy and the security of their records."
"We're excited to be able to better support high schools and districts through the closer alignment of the Parchment and NeedMyTranscript businesses," said Sarah Kiley, General Manager of K12 at Parchment. "Parchment's mission aligns closely with NeedMyTranscript, which is why we are thrilled to be working closely together."
Parchment's mission is to help turn credentials into opportunities and NeedMyTranscript joining the team at Parchment is another step towards that mission. We look forward to serving you as a combined company!
If you have any additional questions regarding our new partnership, feel free to contact us at nmtinfo@parchment.com.
About Parchment
Parchment believes credentials matter in the lifelong journey of a learner. Offering the most comprehensive academic credential management platform, Parchment helps learners, academic institutions and employers request, verify and share transcripts, diplomas, and other credentials in simple and secure ways.
Our platform has helped millions of learners, over 13K districts, university registrar offices, state education agencies, and receivers (including university admissions offices, background check companies, employers, college application services, OPMs, and certification and licensing boards) exchange more than 140 million transcripts, diplomas, certificates, comprehensive learner records (CLRs) and other credentials globally.
Parchment is headquartered in Scottsdale, AZ and Melbourne, Australia, with offices in Roseville, CA and Loveland, OH. We help turn credentials into opportunities.
Follow Parchment on Twitter, Facebook and LinkedIn.
If you're interested in learning how automation can decrease stress and increase efficiencies, start the conversation by completing the form below.
There's always more to learn.
Ready to feel the power of Parchment?
I'm a student or a learner
I work at an institution or business