BACK
Higher Ed
Parchment Exposé: The Business of Fake Degrees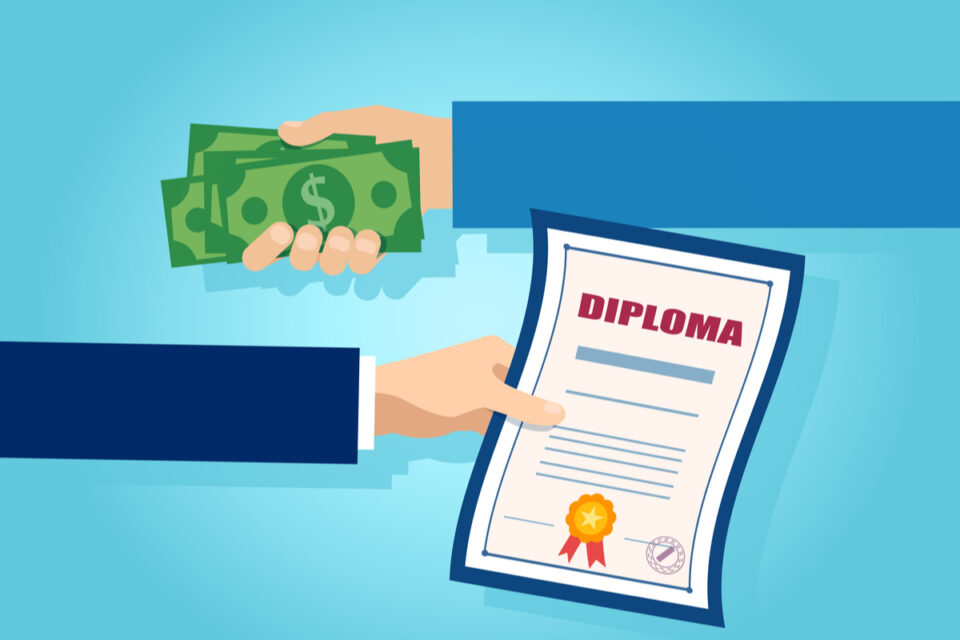 Fake credentials – like diplomas, transcripts, and award certificates – are easier to create than you think. A quick google search results in tons of scamming best practices and even step-by-step videos instructing users on how to create fake documents. Phony records are out there and chances are you may have had some pass through your offices…If you are a paper-only credentialing institution, you need to be aware.
Here are three things you should know about fraudulent transcripts, diplomas, and other certifications:
Fake diplomas are extremely easy to create. Really.
Bogus documents can be easily purchased online under the guise of gag gifts – expensive pranks, usually upwards of a few hundred dollars.
Surprisingly, it's not an illegal activity. Seriously.
The good news? It's extremely difficult, if not impossible, to fake secure digital credentials.
With diploma fraud becoming increasingly prevalent, we decided to take a look at diploma mills, a multibillion-dollar industry, and find out just what it takes to purchase or even create a bogus credential. We'll share what we found out, but first a question – or two.
What Does a Paper Diploma Mean (Now That Digital Versions are Available)?
A paper diploma is a document providing formal evidence of your educational advancements and experience. It's also a professional document for employers and peers. Today, more than ever, a paper diploma is an emotional document representing the completion of an academic milestone for the graduate, their family, and friends. Certainly, it looks good, nicely framed and hung on the wall.
But with digital credentials and social sharing becoming more common, the professional value of paper diplomas is slowly being replaced by digital. This is similar to other forms of paper that can easily be recreated, like prescriptions. Not only do consumers expect fast turnaround time, the stakes are higher when a potential job is on the line. After all, an employer isn't going to hold a position while they wait for paper references to show up – especially when digital verification provides the same trust in a matter of seconds.
Law and Order: Isn't It Illegal to Purchase Counterfeit Credentials?
While it should be, phony diplomas are marketed under the guise of being a gag gift, novelty item or replacement. Like the police badges and uniforms being sold, bogus credentials allow people to impersonate something or someone they are not. Like a graduate.
The article, "The Law and Diploma Mills," says that phony college degrees, bogus high school diplomas, and counterfeit professional certificates top the list of current Internet scams. Unbelievably, the diploma mill business as a whole has blossomed over the last decade with little legal, moral or economic resistance. And as far as state laws go, the system is weak, explains the article. Consumers caught using fake degrees as a leg up in their professional lives risk a fine, but in many cases, they play the ignorance card. (It's just a formality. I've "earned" a degree because of my work experience.)
We Graduated from (insert name here) College (NOT!)
Unfortunately, there are thousands of diploma mills. A Google search on "​How to make a Diploma"​ returns 288 million results while "​Fake Diploma​" provides 22.1 million results. Now search on "​Fake Digital Diploma.​" You'll see that the word 'digital' does not appear in any of the results. In fact, the only way to fake a digital credential is with an unsecured PDF.
Here's some homework for you. See for yourself just how easy it is to purchase fake credentials from state colleges to Ivy League universities.
So, What's the Value Proposition Around Digital Credentials?
There are a number of advantages you get from using digital diplomas, transcripts and certificates:
Digital security measures ensure digital transcripts and diplomas haven't been altered in any way.
Digital credentials are verifiable as the exact document issued by the high school or university.
Digital credentials include evidence like data embedded within digital documents, like coursework and prerequisites for BS degree.
Social sharing of credentials is important to generations graduating now.
Digital credentials provide the nearly instantaneous turnaround time consumers have grown to expect.
Talk to the Experts
At Parchment, we value the importance of education and take credential fraud very seriously. It's one reason why we are the digital diploma leader. There's never been a better time to talk to us about our digital diploma service. You may even be considered a hero and change agent at your institution for protecting your school's reputation.
There's always more to learn.
Ready to feel the power of Parchment?
I'm a student or a learner
I work at an institution or business