Parchment Spotlight: Kevin Martin, General Manager of Higher Education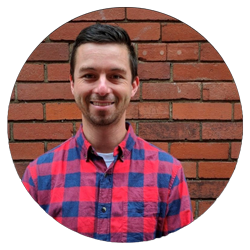 Leading with empathy, Kevin is virtually reading to Parchie kids (including his own three) (and grownups, too) for 20 minutes a day during the workday, bringing them comfort, distraction, and a sense of routine.
While Kevin Martin is responsible for shaping and executing Parchment's growth strategy for higher education (big job!), he believes that in the end it's all about people. "Today, you have families whose lives have been upended," he says. "There are people not used to working from home (WFH) who are stressed about their jobs, and working harder than ever while others around them are losing their jobs. What I want to say is that it's OK to take a break, even in the middle of the day." No surprise to Parchment, Kevin is leading by example.
Taking a Break to Escape – And Reading Together
Reflecting on the times in his life that were difficult, Kevin remembered when as a high school student, he was in the hospital recovering from an injury. That's when his dad took time off work to come to the hospital and read to him. "I couldn't go anywhere, I don't remember what was read but it took my mind off of things, and I looked forward to it," he explains. "Books and story are a great escape."
Along those lines, Kevin set up an optional, 20-minute "Taking a Break to Escape and Read Together" meeting Monday through Friday. It's an opportunity for Parchies and their kids (if they have them) to jump on to Zoom and listen to some reading. First book: The Hobbit from the J.R.R. Tolkien series, The Lord of the Rings.
"We're going to be doing this for as long as the offices are closed, schools are closed, and everyone is WFH," says Kevin. "We're big readers at the Martin house, so I have a long list of books to read. I picked this first book because I think it's accessible for kids, teens, and adults, and it's been popularized through the movies. I want to give them a taste of this series, and then read a book from another series."
Word on the street (so to speak) is that the reading project has been going well. In fact, one boy drew a picture of what they had read. So, people are engaged.
Leading with Empathy
At Parchment, we know our member institutions and individuals at these institutions have an incredibly difficult job right now: managing individuals remotely, working through issues to serve students well, and meeting the needs of faculty as well as their own families.
Kevin's message to our members? "It's difficult to set up time for yourself and others. But it's important to have space to live through this, rather than just suffering through it," he says. "Set aside time, model it, and encourage others to do it. It's as important to work hard as it is to enjoy life because stress turns into other things, like lower immunity. Take time for others, and think of how you can go out of your way as a leader to show more empathy."
Considering Others
Today, Kevin believes that our significance and security are being challenged. "So much of our individual identities, both professional and personal, are bound up in the attributes and activities that make us feel significant and secure. Our significance and security are being challenged and changed today, not just our own, but our friends, our co-workers, our kids, our spouses, everyone in the community. That change can feel like a loss, and that loss can lead to pain, which in turn can lead to a whole bunch of emotions like sadness, frustration, and anger.
So when someone with whom you're sheltering-in-place or Zooming with is exhibiting frustration, it might be that they are struggling with their own feelings of significance." This is where Kevin suggests that each of us can step up, be a leader, and consider others. "Think of those who have taken the time to consider you throughout your life; they didn't have to, but they did. When I think about the people who have considered me, I'm humbled; what a gift that another person has considered me," he says. "Hopefully, through this people will realize that everyone has significance and they are worthy of a little of your time. I'm considering you by sitting down and reading to you."
About Kevin
Kevin, originally from Canada, has been a Parchie for seven years now. He enjoys spending time with family and friends, playing hockey (both street and ice) with his kids, and washing the dishes. Kevin exemplifies Parchie values  – he looks for ways to help and give back, he's accountable, and he operates with integrity. Kevin resides in Michigan with his wife and three children. No pets in the Martin household – and that's okay – they've got a wild neighborhood turkey the children have nicknamed "Bob."