BACK
Higher Ed
Queer Eye For The University Registrar: How Parchment Can Help Revamp Your Credential Management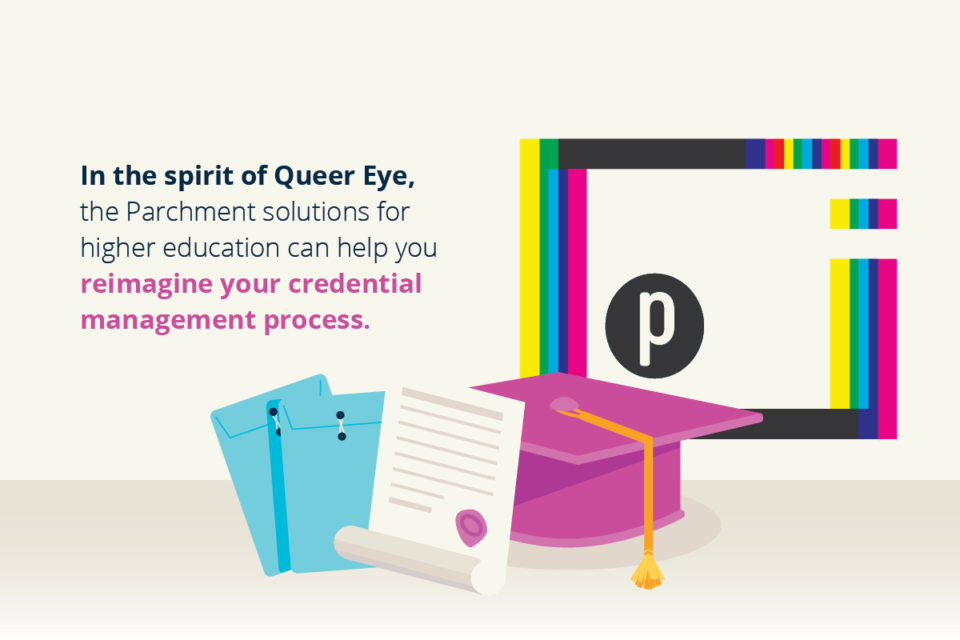 If you love the Fab Five, raise your hand! With five areas of expertise, the stars of "Queer Eye" spend every episode turning someone's life upside down, leaving them with the confidence and tools to be the best versions of themselves. The reboot took Netflix by storm, warming all of our hearts with endlessly inspirational content.
In the spirit of "Queer Eye," the Parchment solutions for higher education can help you reimagine your credential management process. Use these words of wisdom from the Fab Five to channel your credential management refresh:
"It's your life, design it well." – Bobby Berk
Designed with university registrars and administrators in mind, the comprehensive Parchment credential management platform includes best-in-class diploma and transcript services, as well as the option to provide any kind of digital credential your students may receive. Bonus points: The platform comes with a whole suite of analytics that can help you with everything from year-end reporting to student experience improvements.
Plus, when you need support, don't hesitate to ask for help. While no one has the same charm and wit as the Fab Five, our integrated online and phone support teams can provide a helping hand when you need it.
"Just because the office is casual doesn't mean you shouldn't make an effort." – Tan France
Okay, so Tan was probably talking about fashion choices here … but that doesn't mean we can't apply it to all aspects of work life. Going above and beyond for your team and students makes for improved experiences on both ends of the spectrum. With that comes an enhanced university reputation, encouraging employees and students to happily join the community.
And while we're on the topic of aesthetics, the Parchment platform is clean, modern, simple and totally easy for all users to navigate. Not to brag, but we think Tan would be proud.
"When people say, 'You can't teach an old dog new tricks,' it's not true, because you can reinvent yourself and learn new things whenever you want." – Jonathan Van Ness
Is your office stuck in the past? No worries. Parchment can help you fast forward to the present – and prepare for the beyond as a true partner in credential management. Stop dealing with paper and those pesky questions like "Where's my transcript?" and "Where's my diploma?".
"Food is love." – Antoni Porowski
Antoni loves a good meal – and he'll be disappointed to know that you skipped lunch yesterday because you were too busy at work. The good news is that Parchment can help you automate your processes, putting some well-deserved time back in your day.
"You deserve a life full of happiness, new experiences and an abundance of success." – Karamo Brown
You heard it from Karamo first! You have the tools for success; all that's left is for you to start moving forward with your head held high – not to mention your students, who are just beginning to define their futures and rack up the experiences. With a smooth-sailing credential management system, you can help them turn their transcripts and diplomas into life-changing opportunities.
If you're ready to transform your credential management system, learn more about Parchment's complete suite of services for higher education registrars and administrators – and schedule a demo to see the platform in action.
Here's to making the Fab Five proud!
There's always more to learn.
Ready to feel the power of Parchment?
I'm a student or a learner
I work at an institution or business