BACK
Parchment News
Receivers: It's about time
Howdy Admissions officers! A new feature was rolled out a few days ago that we hope you will like! When you click that "Process" button, in the past there was no telling how long that would take. Should you get a cup of coffee? Or if your download file is larger, maybe lunch is a better plan.
We wanted to give you a little more information on how long it should take to process and download your documents. Now every time you process, we'll calculate how long it took to process similarly sized files at the same time and give you an estimate of how long it should take to complete your download.
Step 1: Click "Process"
Step 2: Parchment calculates approximately how long your download will take
Step 3: The prepared file is in "Ready to Download"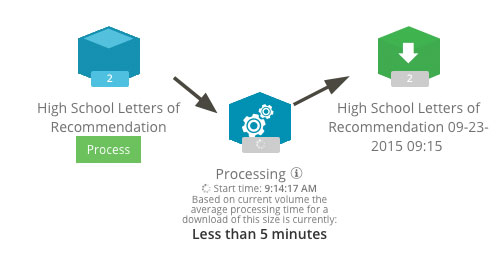 We hope this new feature will help you as you're in the busy admissions season. Please let us know what comments you have below, or by emailing feedback@parchment.com
There's always more to learn.
Ready to feel the power of Parchment?
I'm a student or a learner
I work at an institution or business