BACK
Higher Ed
What are Micro-Credentials?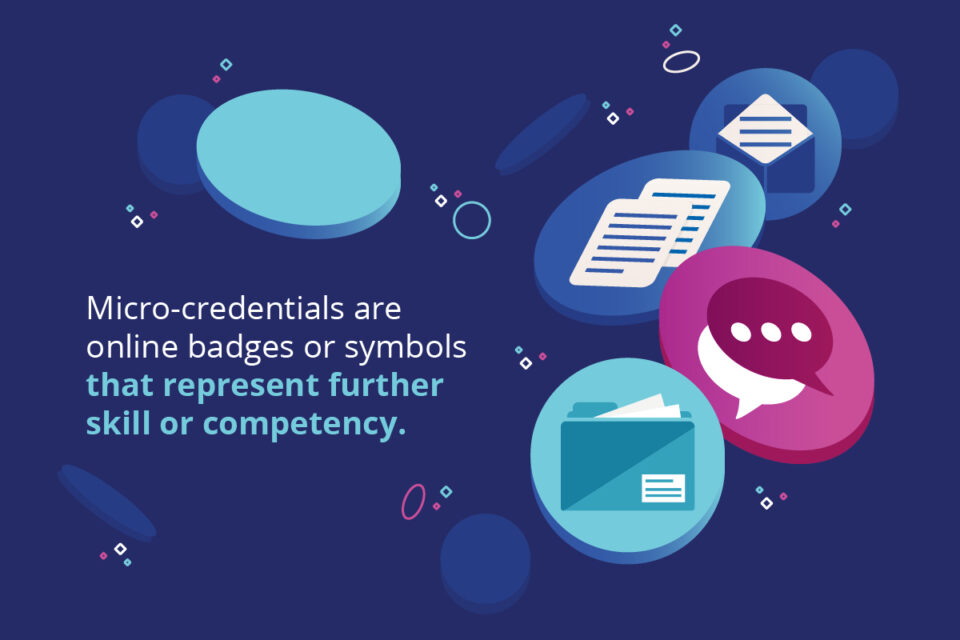 Today, employers are constantly searching for candidates who not only have job experience and education to back up their ability to be a proficient worker, but also have the qualifications that take their application to the next level.
Credentials, for example, can be used as a form of code between universities and employers to display a candidate has gained the skills and education needed to perform a job properly. According to the Higher Education Strategy Associates, factors like the type of degree and the name of the program are a few general credentials that can impact an employer's impression of a candidate.
But with so many people earning bachelor's and master's degrees today, how can one person set themselves apart from the next? The answer: Micro-credentials.
A deeper look at micro-credentials?
According to the Canadian HR Reporter, micro-credentials are defined as online badges or symbols that represent further skill or competency. These are considered a step above traditional credentials; the conventional route is more commonly used today as a way to vet applicants during the application process in a more manageable way. Micro-credentials are used to identify future employees who have particular competencies the company may be looking for.
How can Parchment help?
Let's take a closer look at what these badges look like to future employers, and how Parchment, can help navigate resumes and other documents during the application process and beyond.
When future employers can easily recognize students for their commitment to learning and expanding their educational horizons, there's less time wasted sifting through resumes and other documents to find the right candidate. Parchment Award is designed specifically to showcase micro-credentials in candidates with a feature that allows for one-click verification of specific skill sets.
Parchment Award is benefiting universities and institutions worldwide. The Ontario University Registrars' Association has taken advantage of the feature and finds it help students develop into professionals, in a distinguishable way.
"The Ontario University Registrars' Association provides professional development to its membership through leadership, cooperation, and information sharing," said Robyn Parr, OURA President and Assistant Registrar at Ryerson University, in a press release. "We're thrilled to provide a new way to recognize our members for their ongoing commitment to learning with digital credentials and look forward to finding new ways to share the contributions of our members using the Parchment platform."
Students, employers and registrars alike can benefit from this platform. Dr. Joe Stokes, University Registrar at Ontario Tech University; and Former President of OURA, said Parchment Award is the perfect platform to transform the role of the registrar within the digital age.
"As I think about the evolution of the role and function of the Registrar, in relation to the associations that support the development of the profession, it's incredibly important to lead from the front and provide examples of innovations that may be used to enhance career skill sets, and the broader professional journey," Stokes said.
To learn more about Parchment Award, contact us directly today.
There's always more to learn.
Ready to feel the power of Parchment?
I'm a student or a learner
I work at an institution or business