BACK
Admissions, Higher Ed, K-12, Pathways
What Is Dual Enrollment? Trends, Benefits, and More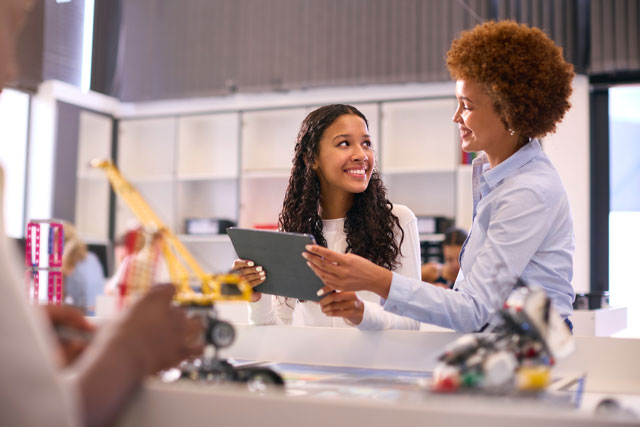 As the pursuit of higher learning evolves, the educational landscape has expanded beyond the traditional confines of a single institution. In fact, several programmatic strategies have appeared in recent years, aiming to help students obtain college credit during high school. While five common college-credit-in-high-school-program models exist today, dual enrollment has emerged as one of the most widely adopted options high school students are using to get a jump start on college.
In this article, we're taking a closer look at dual-enrollment programs and their value for high school students and institutions alike.
What Is Dual Enrollment?
Dual enrollment, sometimes referred to as dual credit or concurrent enrollment, is a program allowing high school students to sign up for college courses and earn college credit while simultaneously fulfilling requirements for high school graduation.
With a wide variety of designs and implementations in place today, dual enrollment may be hosted at a student's high school, the partnering college campus, or online — typically taught by college professors or qualified high school teachers. Once the course is finished (and passed), students earn college credit, which may be transferable to other colleges or universities after their high school graduation.
The Rise of Dual Enrollment
Participation in dual-enrollment programs has seen significant growth in recent years. An analysis of IPEDS data by the Community College Resource Center reveals that the number of students under the age of 18 enrolled in college surged to over 1.5 million in 2021, which is more than four times the number in 1997. When focusing on community college enrollment, it's noteworthy that 18% of students, or nearly one in five, are dual-enrollment students.
The U.S. Department of Education reports that approximately 88% of high schools offer dual-enrollment courses, with 34% of high school students taking advantage of these opportunities to start their higher-education journeys. This highlights the large scale of dual-enrollment programs offered nationwide.
Requirements for Participating in Dual-Enrollment Courses
Eligibility requirements for dual-enrollment students vary from state to state — sometimes even by college or school district — but generally require a certain GPA and institutional approval. The most common minimum GPA for a dual-credit program is 3.0 (unweighted), depending on whether you're a high-school junior or senior. This makes it essential for students to research relevant programs, consult counselors and the admissions office, and understand their school's specific requirements before applying.
The Key Benefits of Dual Enrollment 
Dual enrollment offers benefits for participating students, high schools, and higher-education institutions alike.
How Dual Enrollment Benefits Students
For learners, dual-enrollment programs allow students to earn college credits at a reduced, or sometimes no, cost — jumpstarting their higher-education journey while saving on tuition expenses. What's more, the experience offers a smooth transition to college by exposing students to the rigors and expectations of college-level coursework. It can also broaden a student's horizons, providing access to subject areas not typically available in their high school.
Dual enrollment is also connected to better student outcomes. Research from the What Works Clearinghouse reveals that learners who participate in dual-enrollment programs are more likely to graduate high school, enroll in college, accumulate college credits, and ultimately earn a college degree.
How Dual Enrollment Benefits Institutions
At the same time, dual-enrollment programs help colleges and universities improve access and equity in higher education by introducing students to additional subject areas beyond what may be offered at their high school — including students who might not have considered college otherwise. By partnering with high schools and local communities to offer dual-enrollment opportunities, institutions also strengthen their community ties and support local educational needs.
By nurturing a pool of learners who have already accumulated college credits, dual-enrollment programs also serve as effective admissions pipelines — particularly beneficial for community colleges. Institutions can, therefore, reduce barriers to entry and align students with seamless transitions into their unique higher-education pathways.
Finally, because dual enrollment increases the likelihood of college enrollment and completion, colleges and universities may also gain access to additional funding tied to student outcomes, as well as resources that support continued dual-enrollment efforts and organizational success.
Finding Solutions That Support the Process
Dual enrollment bridges educational gaps and equips high school students with valuable experiences and skills, and solutions from Parchment can support an easy and efficient process. Our suite of student mobility products, Parchment Pathways, is designed to expand academic opportunities by simplifying and streamlining dual enrollment, course sharing, credit transfer, and transcript processing.
To explore how Parchment can support student and institutional dual-enrollment needs, schedule a demo.
There's always more to learn.
Ready to feel the power of Parchment?
I'm a student or a learner
Order