BACK
Parchment News, Pathways
Why Parchment is Launching a Thought Leadership Podcast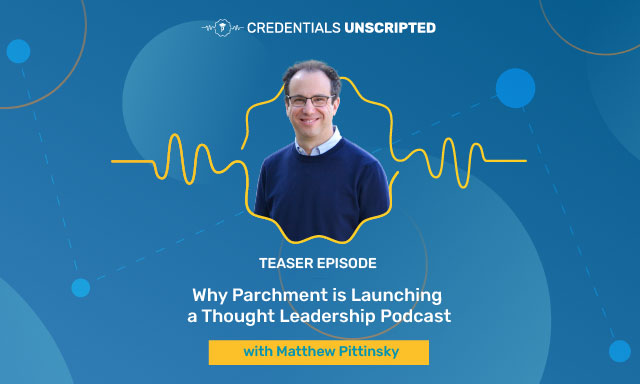 Matthew Pittinsky, CEO of Parchment, joins us to share why Parchment is starting a thought leadership podcast and why he is excited about exploring "Learner Pathways" in our first season.
Transcript
Matt Sterenberg (00:00.842)
What's up guys? I am Matt Sterenberg. I'm the host of our podcast, Credentials Unscripted, and we've got a teaser for the release of our upcoming podcast. And I thought the best person to bring on would be the CEO of Parchment, Dr. Matthew Pittinsky. So Matt, tell us why you're excited about the podcast and why we're doing the podcast, Credentials Unscripted.
Matthew Pittinsky (00:26.906)
So I am super excited. The reason, fellow Matt, is because when I want to laugh, I can listen to SmartList. When I want to learn what's happening in the world, I can listen to the New York Times podcast. But when I want to think about credentials and student mobility within K-12 or K-12 into higher ed with dual enrollment or credit transfer moving within higher ed, all the different ways in which students move within and across our educational system, I don't have anything.
Sure, I spent all day working on it, but I don't have anything to listen to at night on my trusty podcast device, otherwise known as my mobile phone. So that is why we are doing Credentials Unscripted. And clearly it is unscripted because we think that there's an opportunity for folks in the community of practice who are interested in these kinds of topics to join us in a podcast where we can bring many of our members, our customers, who are experts in the field and other advisors that are part of our community, to the table with you to talk about what's happening in the world of student mobility.
Matt Sterenberg (01:44.658)
And it's 2023, so we're contractually obligated to come out with a podcast. So we have to do it at this point.
Matthew Pittinsky (01:51.554)
There was that marketing just has to be a cliche. Is there going to be artificial intelligence in this podcast or a blockchain?
Matt Sterenberg (02:00.022)
What if I told you that I'm AI?
Matthew Pittinsky (02:05.602)
That is some deep, deep stuff. And you're an NFT? You're an NFT AI?
Matt Sterenberg (02:06.306)
Obviously the beta version. Yeah.
Matt Sterenberg (02:14.982)
Yeah, exactly. So the first season is on Learner Pathways. You kind of touched on this. The first several episodes are in dual enrollment and we've got some phenomenal guests. So we've got Dr. Rebecca De Leon, who's from South Texas College. She's talking about why you should care about dual enrollment. We've got Sarah Spradling, who's a College and Career Adviser from Vandergrift High School. She's going to tell us how to talk to students and families about dual enrollment. And we've also got Amy Williams from NACEP who is really giving us a general overview of dual enrollment and on why quality and rigor matter in dual enrollment. But I want to quickly plug those episodes specifically as kind of the kickoff to the learner pathway season. Why are we so excited about dual enrollment as a company and then also kind of just broadly as a thing to talk about and to investigate?
Matthew Pittinsky (03:05.506)
Yeah, it's a great question. And for those who don't know the acronym NACEP, that's the national association that's responsible for dual enrollment. I think we're excited about dual enrollment because it has existed for a really long time as an option for high school students to take college courses while still in high school, either taking them at their high school with teachers who have been accredited by the college to teach or going onto the campus of the college and learning there and now with the option of taking the course online. This has existed for a while, but it's been more niche populations of students who have taken advantage of it.
And what we've seen over the last decade or so is a significant growth in the participation of high school students in dual enrollment. It's a great way to get access to rigorous high quality courses, especially your senior year where sometimes your high school doesn't have as many options or as many requirements. And very importantly, with the growth of tuition dollars and the cost of college, the opportunity to take classes while in high school with a local, typically more affordable, tuition option and then bring those credits to your degree program. It meets the needs of high performing students who want a more challenging curriculum. It meets the needs of families who are looking for a more affordable way to get access to college credit and then transfer it. It's something that state policymakers are particularly focused on.
And community colleges in particular have seen dual enrollment be an absolutely critical part of their enrollment strategy, but it's also something that a lot of four-year institutions do. What better way to begin to hook students in your region to think about attending your university than to have them start to earn credits at the institution. So for all of those reasons, we're excited.
Matt Sterenberg (04:59.286)
Matthew, thank you so much and look for the release of the episodes coming out in November. We're very excited about it. So again, credentials unscripted and we'll talk to you all real soon. Thank you.
There's always more to learn.
Ready to feel the power of Parchment?
I'm a student or a learner
Order