BACK
K-12
5 Inspiring (And Unexpected) High School Commencement Speeches (And More)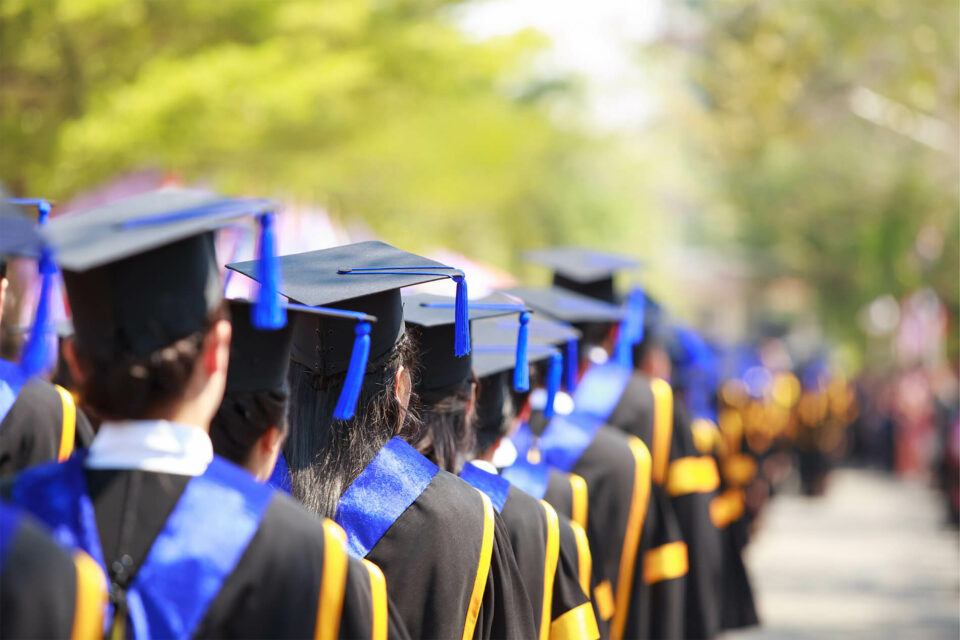 Whether you're looking for inspiration to write your own speech or want to be inspired in life, these commencement speeches fit the bill. We love their humor, their vision, their vulnerability and humility, and their love of life. We hope you do too!
Asash Salam, 2013
"I only believe in a few things. The American Dream is one of them. I'm not that smart. I'm not athletic. I can't sing or dance. And I didn't even have the guts to ask a girl to prom this year. Every day I try to remind myself how lucky I am to be living in this land of opportunity. I have food, clothing, and shelter. These thoughts kept me going 10 years ago (since immigrating to the US), and they keep me going today. If you are lucky you will live an ordinary life. You have opportunities that others around the world would die for. I truly believe in the American Dream because I have lived it for the past 10 years." More.
Chase Dahl, 2015
"The world we live in is plagued with dangers: Ebola, ISIS, global warming, facial acne (and now COVID-19) Despite all the odds, we still managed to graduate. Keep in mind that many of our social and political leaders and heroes started their lives as an average person, just one of you and me. Despite the failures and mistakes we will make and although we may be average, we find that the average can achieve greatness whether recognized by their world or just a few. Remember that to leave a legacy or achieve greatness is not to have money or recognition. It's to leave those with whom we cross paths with a little more happiness and hope." More.
Madeleine Meldrum, 2017
So we press through the pain
And we dance in the rain
And we change and we grow
We learn how to let go
And it's these times we show
That we're more than we know.
Sef Scott, 2018
"Unexpected. That is what I want you to remember. I imagine that to the seniors that know who I am it is entirely unexpected that I would be standing here giving a speech. I have autism and a social communication disorder. It is not a normal thing for me to elect to speak … Don't fear the future. Don't fear the unknown. Be the unexpected like me. Do the unexpected to the benefit of others. Live the unexpected for your own happiness."  More.
Alex Li, 2020
Never be a sheep. The world and society will often tell you what you can and cannot do. But very often these rules and expectations will hold you back. Now that you are out of high school there's no one to tell you what to do. You don't have to do anything. Which means that you can do anything. So, choose your own path. Have faith in yourself, the person next to you, and the people of the world. Everything around us has been built by people barely different than ourselves. Our DNA is basically the same as every other person on earth. Humanity has created amazing things. So, the next time you think your dreams are too big, remember the potential that lies within being human." More.
Check out more high school commencement addresses here.
Quick Study: 10 Quotes for Graduates from the Famous (And Not So Famous)
Even a single quote can be meaningful and thought provoking. Here are 10 that are just that.
"A graduation ceremony is an event where the commencement speaker tells thousands of students dressed in identical caps and gowns that individuality is the key to success."  – Robert Orben
"Don't be afraid to take a big step if one is indicated; you can't cross a chasm in two small jumps."  – David Lloyd George
"The true meaning of life is to plant trees under whose shade you do not expect to sit."  – Nelson Henderson
"Things turn out best for the people who make the best out of the way things turn out."  – Art Linkletter
"Everything's always ending. But everything's always beginning, too."  – Patrick Ness
"Never let the fear of striking out keep you from playing the game."  – Babe Ruth

"You are braver than you believe, stronger than you seem, and smarter than you think."  – A. A. Milne
"No matter where you're from, your dreams are valid."  – Lupita Nyong'o
"Keep in mind that neither success nor failure is ever final."  – Roger Babson
"It's always a good move to listen to that inner voice… if it doesn't lead to a crime." – Lisa Kudrow
For more, visit "110+ Inspirational High School Graduation Quotes" and "125+ Inspirational Quotes for Graduates." 
So, congratulations graduates! You made it through some tough times. We salute you!
Need to order your high school or college credentials? Go here.
Researching what college is best for you? Use our college tool.
There's always more to learn.
Ready to feel the power of Parchment?
I'm a student or a learner
I work at an institution or business