BACK
Higher Ed
Our Recap of the 107th AACRAO Annual Meeting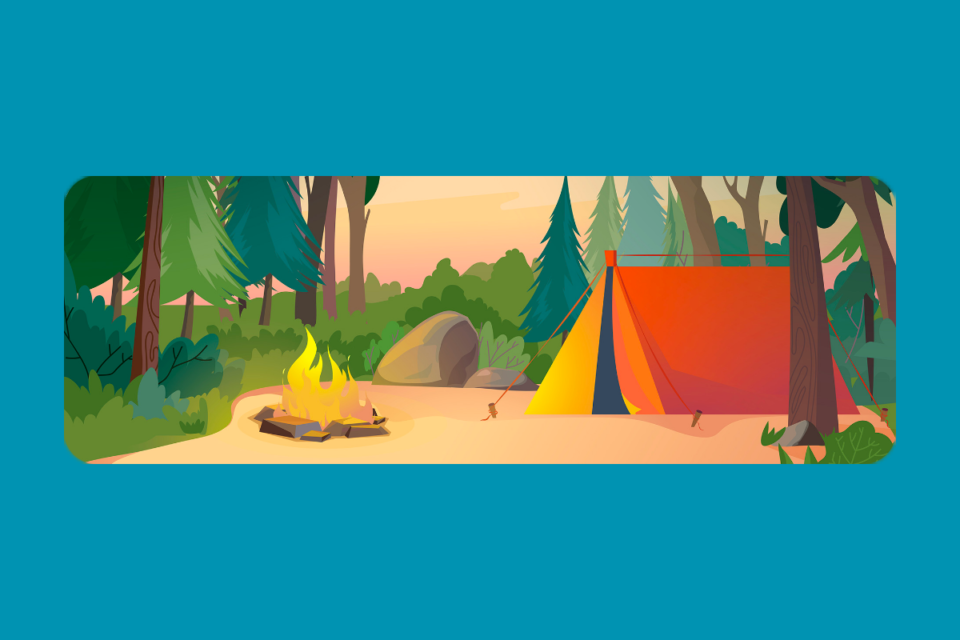 During the first week of April 2022, the American Association of Collegiate Registrars and Admissions Officers (AACRAO) presented its 107th annual meeting — the organization's first face-to-face annual meeting since the COVID-19 pandemic. AACRAO is a non-profit professional association that promotes advancement in admissions, academic records, and enrollment management throughout the higher ed community. The annual meeting allows registrar, admissions, and enrollment professionals to collaborate, learn, and network.
The four-day event took place at the Oregon Convention Center in Portland, with an estimated 1,000 in-person attendees — including members from the Parchment and Scrip-Safe team — and another 500 participants attending virtually.
Inspired by the picturesque Oregon wilderness, the combined Parchment and Scrip-Safe booths featured an immersive camping theme. While enjoying tall trees and a cozy campfire, attendees could play interactive games with Parchie the Parchment mascot for the chance to win prizes like limited-edition camper chairs, s'mores, camper mugs, and GrubHub and Amazon gift cards.
Highlights from the annual meeting
The annual meeting kicked off on Sunday, April 3rd, with its welcome reception and the official opening of the exhibition hall. Throughout the remaining days, participants were able to join various workshops and listen to presentations on how to improve learner experiences in higher ed.
On Monday morning, Matt Stinson, Director, Higher Education at Parchment, led a presentation on elevating the student experience with Parchment Award-Diploma Services. The session highlighted key topics and insights into what Parchment's solutions can deliver, including:
How today's learners expect fast credential deliveries.
The importance of digital accessibility.
How Parchment Award-Diploma Services empower students to easily update their contact details to ensure they receive awards on time and to the right location.
Parchment members Alexander Taylor from Elon University and Christopher Davis from the University of Maryland Global Campus led their presentation on the importance of Comprehensive Learner Records (CLRs) for employers and students on Monday afternoon. Their session showcased why CLRs matter and how they can enhance learner experiences, drive retention, and support students in earning a degree. 
The Parchment team closed out Monday by hosting an after-party at the Portland-centric sports bar Spirit of 77. Annual meeting joined the Parchment crew for drinks, snacks, and some friendly — yet competitive — rounds of arcade basketball.
Tuesday kicked off with Jason Weaver, Head of Product Management at Parchment, conducting a panel discussion on the future of data credentialing. The panel of guests included Dr. Kristi Wold-McCormick, Assistant Vice Provost and University Registrar from the University of Colorado Boulder, Michael Sessa, President and CEO of Postsecondary Electronic Standards Council (PESC), and Ana Borray, Program Director at Common App.
A few key points discussed include:
The role higher education plays in the evolution of data-enabled credentialing. 
The need for data standards to help prove administrative credentialing processes.
How data credentialing enhances student experiences.
The AACRAO annual meeting wrapped up on Wednesday, April 6th. While attendees made their way to the final presentations, many were sure to visit the Parchment exhibition booth to chat with the team, discuss some of their favorite moments of the annual meeting, and grab a photo with Parchie.
Thanking AACRAO for another amazing year
We want to extend a big thank you to AACRAO for hosting a truly remarkable event. We were excited to connect with fellow higher ed professionals again after spending such a long time apart. With that in mind, we're already looking forward to the 108th annual meeting in Aurora, Colorado next year!
If you didn't make it to Parchment's AACRAO sessions, no need to worry. Our team is always available to connect and demonstrate how Parchment's solutions can enhance your academic institution. 
Discover how Parchment can help you reach your goals and alleviate stress. Fill out the form below to get started.  
There's always more to learn.
Ready to feel the power of Parchment?
I'm a student or a learner
I work at an institution or business