BACK
CLR Services, Higher Ed
Comprehensive Learner Record: Credential Innovation Increases Student Success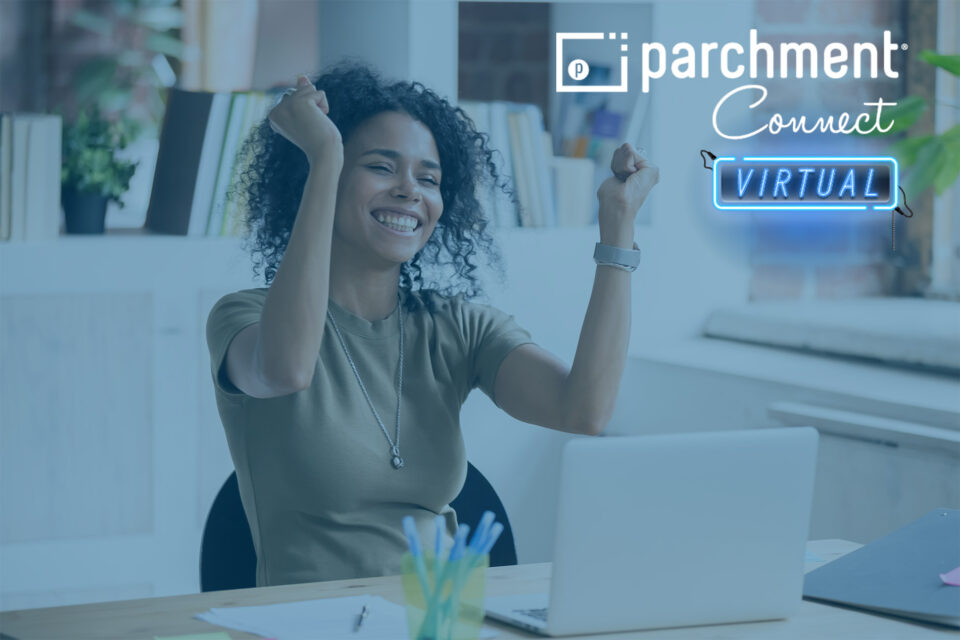 If you're in higher ed leadership, developing a Comprehensive Learner Record (CLR) is most likely on your radar. If it's not, take a mental note now! CLRs are on the rise. We recently hosted a webinar on the topic, led by moderator Kevin Martin, General Manager Higher Education. Kevin interviewed three panelists who shared their institutions' CLR journeys. (View entire webinar.)
Learn more about developing your own CLR at Parchment Virtual Connect 2021. Register now!
What is a CLR?
A CLR is a different kind of student record meant for the student audience (not the higher ed audience). The CLR is not a replacement for the traditional transcript, which outlines what a student is taking. Instead, it's another type of record that focuses on the learning outcomes of a student, rather than a sequential history of what a student has taken. 
Here are how our speakers individually defined a CLR:
"Ideally, you want the CLR to tell a story that exemplifies learner success, illuminates their interests, and reflects their cumulative college experience."  – Bhavesh Bambhrolia, University Registrar, Temple University
"The CLR is what your institution needs it to be. It starts with who your students are and what they need to see beyond a traditional transcript."  – Insiya Bream, Assistant Vice President Data & Systems, University of Maryland Global Campus
"The CLR is the umbrella over elements like co-curricular transcripts, competency-based credentials, an electronic diploma, even micro credentials. That's the vision we are starting to see."  – Dr. Rodney Parks, Registrar and Assistant Vice President, Elon University
Driving the Initiative
"Looking at the entire learning model and leaning towards competency-based, we wanted a CLR to tie what our adult students are learning to skills for employers," Insiya explained. To begin, UMGC picked their Master of Business Administration program (4K students) because it was structured in that way that allowed them to easily extract competencies, skills, abilities, and learning outcomes.
"More and more students are using the document to showcase their experiences and skills to employers and on social media to tell the Elon story," said Rod. "Having experiential learning built into the curriculum, shaped by faculty and having their buy-in is really critical to the success of having a successful credential."
"Right now, we are working with Fox School of Business to lay the foundation and framework to allow other schools and colleges to participate," Bhavesh shared. "It's early in the process, but we are discovering the unique experiences of a specific college and determining technical challenges."
It Takes a Village
According to Rod, there are many stakeholders when it comes to the CLR. "You need to bring all constituents to the table, including student affairs, academic affairs, and faculty."
Temple University has three CLR workgroups, including the experiential data and development group. Their job is working on the underlying technology – essentially, to build the CLR using data from numerous systems. Career Services and technical resources from other schools and colleges are also part of the conversation.
"Our cheer squad, including operations and quality team members, understands the benefits of a CLR," Insiya reported. UMGC partnered with Parchment to create a tangible visual to help others understand what a CLR is and what it could become.
Defining and Validating Data
"For the concept we are working on now, we have data coming in from five different systems for the CLR, Bhavesh shared. "The most important part is making sure there's integrity behind the data. You treat it the same way as your academic transcript."
UMGC used a similar approach, defining what they wanted to see in the CLR visual. "We are using the IMS Global Standard to help break down data elements on the CLR into categories now and in the future," said Insiya.
According to Rod, Elon University uses a lot of systems. So, they built a series of custom screens to collect data from disparate systems and store it in their SIS. "Data validation varies," Rod explained. "We use a ton of reports to look at how data is coming across. It's key that its work flowed in a way that someone has signed off on it."
Words of Wisdom    
And last but not least:
"Find a place to start. See what you can launch and go from there. Learn from going through the initial process and improve on that." Insiya Bream, University of Maryland Global Campus
"Start with knowing what your goals are and what you want to accomplish. It gets complicated if there's too much variance. A single concept helps identify issues that make other implementations easier." Bhavesh Bambhrolia, Temple University
"Focus on low-hanging fruit. Start simple. Look at the information at your fingertips to build a record or pull into a spreadsheet. Talk to other schools." – Rodney Parks, Elon University
Wait! There's More.
While Parchment's webinar touched on CLR data standards, this AACRAO podcast goes into more detail with guests Tom Green, Associate Executive Director at AACRAO, and Mark McConahay, Associate Vice Provost and Registrar at Indiana University in Bloomington, and host Doug McKenna. (Listen to the entire podcast.)
A Different Kind of Student Record
According to Tom, the conversation started back in 2015 about creating a different kind of student record, not a transcript, that focused on what students are learning – not what they are taking. The goal was to harness learning complementary to the academic curriculum and unearth all of those learning outcomes underneath that, providing a summary of learning back to the student with evidence.
One of Mark's concerns is ensuring that the validity, integrity, identity, and authority that have been behind the degree for hundreds of years also attaches to the CLR. "We want to make sure we have infrastructure in place to produce a document of value," he explained.
Unique Variations of Learning Outcomes
"Variation of how learning is achieved is local to every institution and faculty," Tom shared. "We need varied ways to express learning, along with standards for that data and how people receive and understand that data."
That's why AACRAO began collaborating in 2017 with IMS Global releasing the first version of a CLR standard in 2019. Then AACRAO formed a workgroup to evaluate – ultimately determining that with so much data collected from so many parts of the academy, the standard needed a very strong interpretation guide.
"The data standard that's enabled credentials from multiple sources, places, and certifiers should come together in the same kind of way on the same platform to enable students to use," he advised.
What's Next for Registrars?
"Registrars have to start to find some space to get up to speed on this because the CLR is gaining traction very quickly," Tom said.
"It doesn't have to be all or nothing," added Mark. "The CLR is so much bigger than a co-curricular record. It's another way of thinking about how to disseminate credentials and how to aggregate them in a way that benefits students."
Discover what Parchment Award – CLR Services can do for your learners. Start the conversation today!
Don't Miss Parchment Virtual Connect 2021
This year Parchment Connect Virtual is focused on credential innovation and college pathways. Our program has tons to offer, including two sessions on the 10th that get into the nitty-gritty of a CLR. And lots more. Register now!
There's always more to learn.
Ready to feel the power of Parchment?
I'm a student or a learner
I work at an institution or business