BACK
Admissions, Higher Ed, Pathways
How Data Automation Speeds Up Admissions Transcript Processing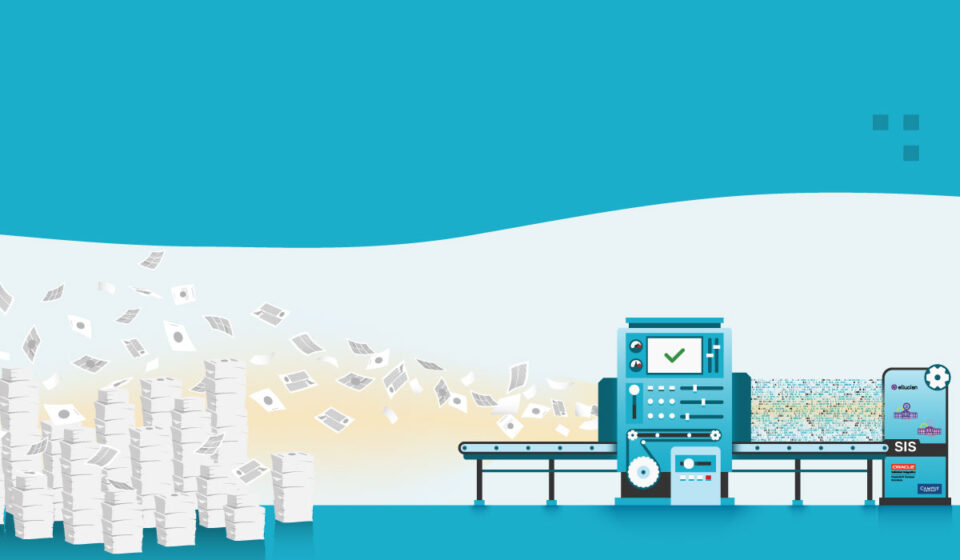 The higher education admissions process often involves cumbersome manual tasks and complex systems. Parchment, the industry leader in academic credentials management, recently partnered with SmartPanda, a provider of mission-critical software solutions for higher education, to revolutionize these processes. The result of this collaborative effort — Parchment Receive Premium + Data Automation — is a powerful and game-changing solution that combines Parchment's widely adopted transcript collection tool Receive Premium with SmartPanda's proven OCR and optimized algorithm technology. SmartPanda's tool has already processed almost half a million transcripts from thousands of colleges and high schools in all 50 states and many foreign countries.
In today's competitive landscape, where efficiency and differentiation are paramount, this new solution promises to transform the way admissions and credit transfer are handled by automating transcript data extraction and ingestion, setting institutions apart from the competition.
Parchment Receive Premium + Data Automation in Action
Hosted in the cloud, Parchment Receive Premium + Data Automation is secure and easy to implement. The overall solution begins its work when your Admissions Office receives a student's PDF or imaged transcript. Parchment Receive Premium routes the PDF to the Data Automation software, which reads the information from the transcript using OCR and continuously refined built-in algorithms. The transcript data is then added directly to the appropriate student record in the SIS (Student Information System). As more institutions adopt this solution, the software becomes more intelligent in reading and correctly adding information to records in the SIS.
Eliminate Manual Transcript Data Entry, Process Transcripts Faster
The days of spending countless hours manually entering transcript data are over. With Parchment Receive Premium + Data Automation, this tedious and time-consuming process can now be accomplished in a fraction of the time. In fact, what used to take 20 minutes or more can now be completed in just a few clicks. This streamlined approach allows Admissions teams to process transcripts rapidly, saving valuable time and resources and accelerating the entire admissions workflow.
Obtain More Data for Better Admissions Decisions
Gaining a comprehensive view of applicants is essential for making sound admissions decisions. Parchment Receive Premium + Data Automation goes beyond basic data extraction, enabling more nuanced information from transcripts to be extracted as well. This means Admissions teams can obtain a more holistic understanding of each applicant, resulting in more informed decisions. By leveraging this wealth of data, institutions can potentially increase admit yield, while creating a diverse and dynamic student body.
Enhanced Network Integration
What sets the Data Automation component apart is its seamless integration with Parchment Receive. Parchment Receive Premium facilitates the delivery of transcripts from thousands of colleges and high schools, encompassing both institutions using Parchment and those leveraging our partner network, including Naviance, MaiaLearning, Cialfo, SchooLinks, and BridgeU. This extensive network ensures that institutions can easily access and import transcripts from a vast array of sources, improving overall efficiency.
Streamlined Credit Transfer
In addition to revolutionizing transcript data automation, Parchment has recently made significant strides in credit transfer solutions and now has a comprehensive solution set supporting transcript collection and processing, course sharing, transfer articulation, and dual enrollment. With Parchment Receive Premium + Data Automation and these credit transfer solutions, you now have a way to easily ingest transcript data and can use that data to improve your transfer and dual enrollment workflows.
---
The introduction of Parchment Receive Premium + Data Automation has not only resulted in a powerful transcript data extraction and automation tool but has also paved the way for enhanced network integration and credit transfer capabilities. With benefits that include faster processing, richer data for decision-making, a robust network, and streamlined credit transfer, institutions can effectively differentiate themselves in today's competitive higher education landscape, delivering exceptional outcomes and services for both first-time and transfer students.
To learn more about how Parchment Receive Premium + Data Automation can transform your transcript processing workflows, please schedule a demo.

Ready to feel the power of Parchment?
I'm a student or a learner
Order