Parchment Spotlight: Michele Deveney, Senior Manager of Training and Development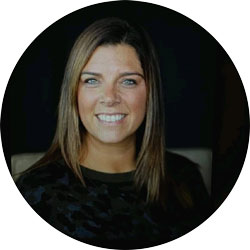 A rock star who isn't afraid of anything and runs at a challenge! That's how Michele's boss, Erin Elliot, describes her. What's more, according to Erin, Michele is always helpful and kind, has a real passion for training, really understands adult learning, and is amazing with Parchment members in virtual settings (and even better in person).
Responsibilities: Content Development and Training
Whether it's standard free training, a custom webinar, or onsite interactive classes, Michele's decade of training experience helps her to engage educators and administrators, enabling them to master their Parchment products and succeed in their day-to-day work.
Michele provides various training opportunities for both new and current members – from educating all new Parchment members on various products to providing a range of training opportunities for current members – and don't forget one of her biggest projects to date –  training members as they upgrade to the next-gen Parchment Award platform! 
If you ask Michele what accomplishments she's most proud of at Parchment, she'll tell you all about Quick Byte videos and the Parchment Learn series – two of her passion projects! It's easy to see why she's proud – Michele developed Quick Bytes, short videos found on Parchment's YouTube channel that provide directions on specific tasks – like adding a welcome message to your storefront or How to Order a Transcript. And then there's Parchment Learn – a self-paced training module that combines training videos, quizzes, and quick reference guides to create a self-service experience for members as well as Parchies. 
Chances are Michele has taught you a thing or two along the way!
Perfect Transition: From Classroom Teacher to Corporate Trainer
Michele was a classroom teacher who became a corporate trainer for audiences as big as 1,500. As a Parchment Account Executive working with current K12 members, she found they would always ask her training questions.
"I spent so much time talking to individual members or going onsite to do Parchment training that eventually it became an actual position," she said. "I used my knowledge of K12 and decided to create more specific training, quick bytes,  and more." And the rest is history.
The Impact of COVID: Providing High-quality Virtual Training
With COVID, it was no longer feasible to do onsite training. However, there were a lot of people who thought you had to be on-site for training to work. "Not true," says Michele. "Even though we are doing this virtually it's still valuable. I'm still going to customize, still going to give you that question and answer feel, that personalization that you are looking for. We are providing members with a lot of resources to increase their comfort level with the products, including self-service sessions that they can re-watch if they need to." 
In addition, Michele put together COVID-specific sessions to expand member use of the platform for pulling in information and communicating with staff and students to get them what they need. And according to Michele, she's gotten really good feedback. "We just want to make sure our members have everything they need. They just keep coming back, again and again, to connect, get a refresher, and learn what's new. We can provide something virtually that's just as high quality as in person."
Working from Home: Self-Care & Connection
Although Michele has worked at home for the last 8 years, she was often on the road. "Before COVID, I was traveling all over the country doing onsite training," she explained. Michele copes by making sure she gets out of her office. "I'm in there a lot, so I get lunch, connect with family, go on walks, and visit with neighbors (at a distance). I'm a social person, so I need that. Continuing to have that network keeps me going."
Michele truly enjoys helping people grow – that's in and outside of Parchment. She recently expanded her team of one to include another trainer, Kristin Kostrzewa. "Kristin, who came from the Credentials Solutions side of the house, is a welcome addition to the team," Michele says. "I couldn't do it without her – it's a team effort!"
Message to Members: Partnership
"I always say that we are partners," said Michele. "Even my email signature is 'In Partnership. At the end of every session, I thank them for their commitment and partnership to Parchment. We need them as much as they need us."
"It's a stressful time, and members need to know they can get their job done," she continued. "So, I want to let them know there's a way to do that and communicate with their students if something comes up. Our goal is for them to get that process in place and get the job done."
Valuable Resource to Members — and Parchies
With her deep knowledge about the systems and how they work, Michele also strives to be a good resource for Parchies as well as members. "I love being an internal support resource for my fellow Parchies – anytime I can answer a question, it makes me feel like I'm doing my job well," Michele says. "I've been so fortunate to have the trust and support of Parchment leaders and it's been amazing to hear such positive feedback about my work." 
Michele is passionate about teaching people what they need to know. And with how she does business, as well as her positive mindset, members know they can depend on Michele and by association, Parchment.
Follow Michele Deveney on LinkedIn here. 
Training Resource Examples