BACK
K-12, Receive
The High School Seniors' College Application Checklist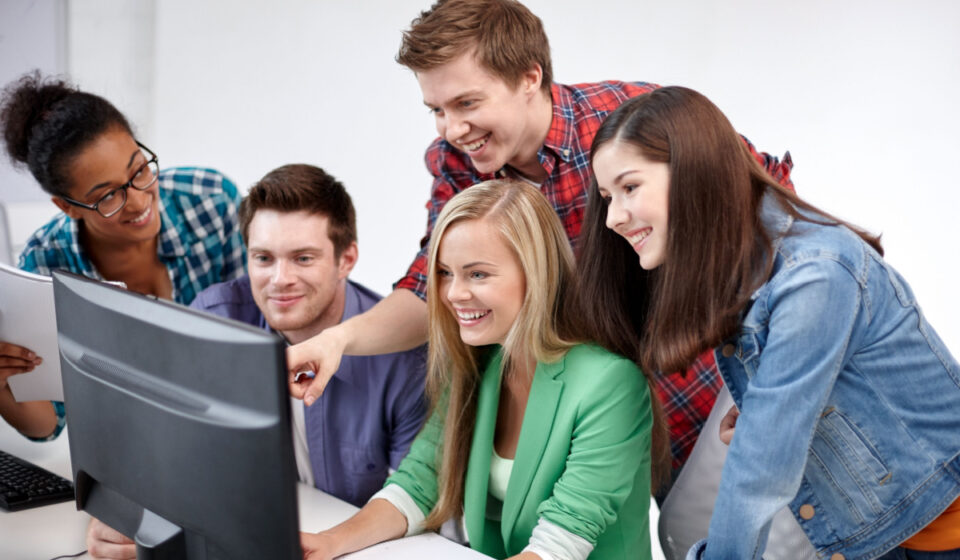 High school counselors are one of the best resources for senior students throughout the college application process. School guidance counselors show students how to select a college, prepare academically, successfully apply to schools, complete the financial aid application and more. Given the pressure college admission can bring to students, high school guidance counselors need tools that support stressed-out college applicants in reaching their goal of acceptance into a college or university of their choice.
Navigating the college application process
School guidance counselors address a host of challenges high school seniors must overcome to successfully navigate the college application process. In addition to a strenuous year of academic, social and emotional growth, today's senior students face new challenges created by two years of pandemic disruption.
In 2021, the rate of senior students headed directly for college after high school shrank. A survey by McKinsey & Company found 17% of seniors abandoned their plans to attend college. Even higher numbers (26%) of low-income high school seniors surveyed had cast aside college after graduation. The same report noted reasons students, including seniors, may not be ready for college were unfinished learning in math and reading, financial constraints and mental health struggles.
A school counselor with up-to-date information on college requirements related to standardized test scores, application materials, financial aid information, application deadlines and more can provide the calm direction seniors need during the college application process.
College admissions requirements are changing. The Common App reported increased application rates in the fall of 2021 and connected it to test-optional policies. The group also mentioned early decision agreement as a potential strategy for admission success because it can ensure a college or university's yield and a school's positive ranking. Though more college admissions are going test-optional, higher than average SAT and ACT scores aren't completely ignored by admissions officers according to International College Counselors.
Students wondering about the impact of either standardized test on college admission may point to MIT reinstating test scores for future admission cycles as evidence the SAT or ACT could increase their chance of being accepted into a top college or university. Given that test prep, books and testing fees are part of the equation, students will need help working through their options from their guidance counselor.
Parchment created a comprehensive college preparation checklist with up-to-date information and resources related to each critical step in the process. This tool breaks the gauntlet into more manageable goals so they can stay focused and feel confident about advancing to the next level in their education.
Parchment's senior year college application checklist
More than just a task list, students get step-by-step instructions on what to complete senior year from August through the following September. The Parchment senior year college preparation checklist offers every resource you will need to successfully meet each task such as:
The latest information on test-optional schools.
Standardized test deadlines and links to apply for needs-based fee waiver.
Free college scholarships and grants information.
Resources to learn more about early decisions and early action and take the appropriate action at the right time.
Access to Parchment Exchange for a meaningful prediction of a senior's chances of admission to any college in the database.
And more.
All resources, publications and organizations included with our college application checklist are reputable sources including the Department of Education, StudentAid.org, the National Center for Education Statistics, National Association of College Admissions Counselors (NACAC), CollegeBoard and others.
School guidance counselors can use a printed and digital version of the college application checklist to track, monitor and address problems with senior students.
Download a free copy of the senior year college application checklist here.
How can college guidance counselors minimize the stress seniors are feeling during the application process? 
College guidance counselors can help anxious college-bound seniors by offering support, information and a streamlined process for students that do the following:
Take the guesswork out of the process from beginning to end.
Clearly states the steps, associated tasks and deadlines to follow.
Tracks the student's progress and helps them to identify where they may need assistance.
Helps a senior student to avoid common mistakes and those panicky pitfalls they're likely dreading.
Empowers students to ask questions and ask for help from guidance counselors, teachers and parents as needed.
How school counselors use the senior year college application checklist.
Taking the biggest step they have ever made toward the rest of their lives generates a great deal of emotional and psychological agitation for students that want to meet expectations, find happiness and have the best years of their lives at college.
Access the college application checklist here.
Share the free resource with your 12th grade college bound students and fellow counselors. .
The checklist clearly states the steps, associated tasks and deadlines to follow, and allows your students to track their progress along the way.
This resource can be sent to a particular student, to a batch of students or posted as a link on a resource page.
How students use the college application checklist. 
The college application process can be the most pressure a young person has felt. There's so much for senior students to manage like finishing high school, writing an unforgettable college essay, financing tuition, books and housing, leaving home, making friends and more. Here are some practical ways for senior students to use our checklist to stay on task, on target and thinking positively about their future.
SAT or ACT exams
High school seniors will know when and where to register for critical college entrance exams. Resources such as ACT.org and CollegeBoard SAT test dates for the 2022-23 academic year and how to apply for a fee waiver will be right where students need them.
Shortlist
Use the host of tips and resources for comparing schools on the checklist to create a shortlist. A short list conserves precious time and money, targets schools that meet a student's criteria for a satisfying college experience, and helps with a game plan for visiting colleges and communicating with school admissions officers.
Early decision
Students who want to express their interest will find helpful information on the difference between applying early action (nonbinding) or early decision (nonbinding). The checklist will prompt them to submit the appropriate application on time.
Financial aid
Senior students will know when it's time to fill out the Free Application for Federal Student Aid (FAFSA) which determines eligibility for federal loans and state aid. A few states require completing the FAFSA to graduate high school. Our checklist includes databases for students to access for free and find scholarships and grants to fund college. It also provides tips for cutting the cost of college from the National Association of Student Financial Aid Administrators (NASFAA).
Common application 
Students may be able to save time through the common application app accepted by 1,000 schools. Nonetheless, they'll need to submit records, personal statements and other documents according to the requirements of each institution. Students using the checklist will be warned to submit on time including for early action or early decision using the common application or the newer, smaller platform coalition application.
Personal statement or essay
Access tips on how to write a personal essay from the National Association for College Admissions Counseling (NACAC) and others using the tool. They will be given plenty of time and a hard deadline to write and edit their unforgettable essay using the senior year checklist.
Student transcripts and records
At the time of application, students will self-report their grades. However, an official transcript from the school district secures their spot. Additionally, schools often need to see a full class list, the year each class was completed, organized by date, the grade for each class and an overall grade point average (GPA). The checklist prompts students to gather and track which schools have received what records.
Recommendation letters
No college application checklist would be complete without helpful tips on how to request a letter of recommendation from a teacher, coach or counselor. Seniors using this checklist will be reminded and given access to tools to keep all of their letters of recommendation organized by school application.
Get a jumpstart on college with Parchment 
School guidance counselors seeking a tool that streamlines the overwhelming college selection and application process has one in our senior year college application and college prep checklist. With the senior year college preparation checklist to track and monitor progress, you can focus on helping students to understand, follow through and, ultimately, enroll in the college or university of their choice.
Parchment can also help set a college-bound mindset earlier in a high school career with resources to prepare and enable students to stand out to admissions officers.
Download Parchment's senior year college prep checklist to further your conversations with senior students about how to prepare for college, the financial aid and application process. Reduce their stress and increase engagement with college-bound students.
---
Reach out to Parchment for more on the benefits of getting a head start on planning for college.
There's always more to learn.
Ready to feel the power of Parchment?
I'm a student or a learner
Order