BACK
Admissions
How to Increase College Enrollment for Your Higher Ed Institution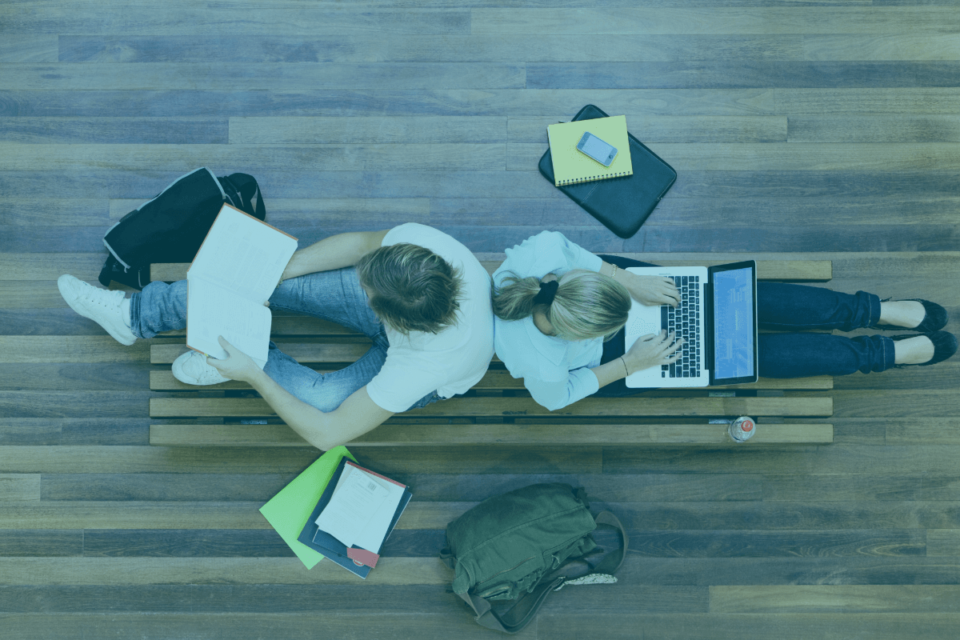 College enrollment has been hit by major social and economic happenings and admissions trends that colleges and universities must help students navigate in order to improve enrollment. Parchment can help you reach best-fit prospective students. Keep reading to learn about how to increase college enrollment this year.
How the decline in college enrollment is affecting higher ed institutions
If your college's enrollment has declined over the last few years, you're not alone. According to reporting by NPR, college enrollment is down by one million students since the beginning of the coronavirus pandemic. What's going on in America? Why aren't high school graduates enrolling in college? Let's take a look at some of the reasons for the decline in enrollment in colleges and universities across the nation and how this reduced enrollment rate is affecting higher ed institutions. 
Sheltering in place wasn't kind to colleges across the country. When school reopened, however, enrollment did not bounce back — it declined. Only 2% of the 2020 high school graduating class enrolled a year later in fall 2021, slightly less than 2.2% in 2019, according to The National Student Clearinghouse Research Center's (NSCRC) high school benchmarks report. What are the factors affecting college enrollment?
The 2021 High School Benchmarks report found income level correlates with college enrollment after graduation for recent graduating classes of 2020 and 2021 in the following ways:
65% of high school graduates from schools with higher-income families enrolled in college for the fall after graduation.
Only 45% of high school graduates from schools with low-income families* made enrollment a priority immediately after graduation.
64% of graduates from high schools with a small minority population** immediately enrolled for the fall after graduating. 
52% of graduates from high schools with a large minority population enrolled for the fall after graduating.
Out-of-state enrollment: 15% of high school graduates from schools with higher-income families had out-of-state enrollment while 5% of their peers from schools with lower-income families enrolled in out-of-state institutions.
65% of higher-income high school graduates enrolled in college for the fall after graduation.
Low-income high schools only saw 45% enrollment immediately after graduation.
Low-minority high schools had an immediate enrollment of 64%. 
52% of high schools with a higher rate of minority students enrolled for the fall after graduating.
Out-of-state enrollment: 15% of higher-income high schools had out-of-state enrollment and only 5% of lower-income students. 
*Low-income schools are defined as schools where at least 50 percent of the students are eligible for a free or reduced-price lunch. High School Benchmarks, December 1, 2021.
**High-minority schools are defined as schools where at least 40 percent of the students are African American or Hispanic. High School Benchmarks, December 1, 2021.
It could be argued that students with the means are able to find a way to pay for college and those with fewer resources are more likely to enter the labor force immediately after graduation, earning higher wages and not incurring debt. There is evidence to support that a strong economy is a large factor in lower college enrollment rates. In fact, community college enrollment is down 13.9% since 2019, compared to the 1.7% dip in private four-year institution enrollment levels.
So then, why has college enrollment been falling in recent years? A college education is still an important factor in career development and earnings potential. In 2020, the median weekly earnings with a bachelor's degree was $1,305 or 67% higher than that of a high-school graduate. Additionally, unemployment rates are much higher (9%) for high-school graduates than college grads (5.5%) two years ago. What has changed? 
The following are thought to be main drivers of the precipitous fall in college enrollment in the last two years: 
The open-close-reopen state of higher education institutions across the country is turning high-school graduates off from college. 
A tight labor market with higher-paying, entry-level positions and benefits is a viable alternative. 
Uneven recovery after the pandemic downturn has made access to higher education harder for students from low-income, high-minority high schools.
The so-called "birth dearth" or the falling birth rates since 2008 have resulted in a drop-off in first-time college enrollment. 
Public universities and community colleges are receiving less of their state's budget than before 2008. A reduction in public funding for public education can result in fewer high-school graduates who qualify for financial aid getting the assistance they need. It can also result in better-resourced students going elsewhere as competition for those students is higher than it's ever been.
It's tough to say how larger economic and social factors may play a role in the college enrollment levels in the future. Today, higher-education institutions are looking for new ways to stay competitive and attract the best-fit students. And it's often up to the admissions department to come up with better ways to reach students where they are and make it easier to search for colleges. 
Parchment's leading college admissions software solution can help your admissions department improve its marketing and find better-fit students with an approach that meets young people where they are. Avoid outdated enrollment strategies and start increasing your college's or university's enrollment today.
24 ways colleges can increase enrollment
Strategies for increasing student enrollment are all about — you guessed it — the students! (Their parents or guardians are pretty important, too.) 
We put together a list of ideas to get you started on guiding high-school students from all around the country and the world to your institution for an invaluable post-secondary education: 
Identify the students who aren't coming to your school by geolocation, non-traditional students and remote-only enrollment.
Develop a strategy to attract (and retain) those high-potential student enrollees.
Regularly convene diverse working groups to address your enrollment management issues. 
Empower those working on increasing enrollment in post-secondary education to be ambassadors.
Renew efforts to increase enrollment among minority populations and high-minority feeder high schools.
Consider partnering with schools in other countries to boost enrollment numbers.
Target communication around students who abandon their application. 
Promote financial aid assistance to students in low-income school districts.
Improve the customer service of enrollment and financial aid discussions. 
Process applications as quickly as possible (ideally within 48 hours) to facilitate a successful enrollment.
Look for ways to trend the enrollment numbers upward over time. 
Investigate using AI-powered chatbots to facilitate the enrollment process and reduce response times. 
Re-think your recruitment and enrollment process to incorporate virtual and augmented reality (VAR).
Create student personas that speak to their motivations to enroll in college for targeted marketing.
Use program-centric storytelling on a blog or social media to capture and keep your best-fit students in conversations with your institution.
Consider Google and Yoast and search engine optimization (SEO) in all your digital marketing assets.
Find and reach high-school students before their senior year to develop a relationship with the prospective student and parents.
Pay attention to little details, like email subject lines and artwork used on social ads for greater personalization.
Ready your enrollment for mobile-access to make it easier for students to submit on their smartphone.
SMS reminders and notifications for greater connectivity. 
Develop packages that honor students who enroll early with easy transcript retrieval, VAR tours and networking. 
Incorporate microsite and personalized landing pages for student enrollment that provide a valuable and engaging experience all along their enrollment journey. 
Harness data to continually improve your enrollment customer service, target marketing and response times.
Make applying easier for prospective students by requesting a transcript for the student using Parchment Receive.
Using recruitment data to improve college enrollment rates
The practice of buying student data or counting heads from college tours aren't over — they're outdated. For higher education to embrace the latest graduating classes (from all over the world), they have to embrace technological tools for analyzing student data. As we noted earlier in this post, there are some big systems (i.e., the economy and global pandemic) imposing changes to how higher ed recruits high-school graduates. In addition, as admissions strategies change — test-optional admissions and the whole-person approach — analysis of student data, both peer aggregate and individual, is even more important for college enrollment rates.
Tools for selecting the best-fit students
Since the dawn of the social media age, savvy admissions professionals have turned to social platforms such as Facebook and Instagram to find high-school graduates who will enroll and complete a degree. Other colleges have placed tracking software, otherwise known as cookies, to their college website that collects data on who visits their site. 
Big data is a critical tool used to understand prospective students and to create personalized communications on those platforms. Institutions of higher learning are learning how to use predictive analytics to help answer the question, "What is the likelihood of that high-school graduate from De Pere, WI, who just visited our biological sciences programs page, enrolling here?"
Targeted marketing
Targeted marketing that reaches prospective students where they are, when they're thinking about where they want to go to college, is powerful and possible. Today's tools can analyze recruitment data and discover those best-fit attributes, demographic, academic and extracurricular information so you can have much more productive communication with the student. Engaging with a student doesn't stop with placing a banner ad on Instagram for your award-winning international studies program. 
When you partner with Parchment, your admissions department gets more than an email with a name, location and timestamp of a user's visit to your arts administration program page. You get very in-depth details about prospective students so you can have meaningful conversations that make your admissions effort more effective and the students' decisions easier which both lead to next year's enrollment increase. 
Let Parchment help your college reach enrollment goals
Parchment Recruit is a powerful tool for college admissions and enrollment officers who want to maximize their visits. You can find new schools and districts that your peers are having success recruiting at and help flag which current feeder schools you can improve your recruiting efforts. With Parchment Recruit, you can form an effective plan to build and strengthen connections based on region — making the most out of your time and budget. 
Students want to hear from you. Parchment Recruit can help you make that all important connection.
Parchment Recruit is waiting to be unlocked so your college can reach its enrollment goals and, most importantly, so students can find you! 
There's always more to learn.
Ready to feel the power of Parchment?
I'm a student or a learner
Order