BACK
Employers, Higher Ed
How To Share A Digital Diploma on LinkedIn

LinkedIn is important for recent graduates and recent certifications holders.
Why?
It's the home of many recruiters and hiring managers that are looking for talent (and looking for people that have your skills).
You worked hard, so make sure you put your academic credentials to work! Adding your digital diploma, digital certificate, or digital badge to LinkedIn is a great way to share with your network your success!
Thanks to some simple integrations with LinkedIn, it's really easy to share any digital credential you receive through Parchment in your LinkedIn Feed and in the Certifications section of your profile.  This step by step guide will show you how to do both.
First, be sure you've claimed your credential so that it is available in your Parchment account.  For this example, I'll use a certificate, but the process is the same for any digital credential: diploma, badge, or certificate.
Adding To Your Posts
To have your digital credential appear in your network's feed you need to post it.  This is can be done in 3 easy steps:
Start in your Parchment account, where you will see your credential in its own tile:
Clicking on the LinkedIn icon within the tile will open up a LinkedIn window to begin sharing: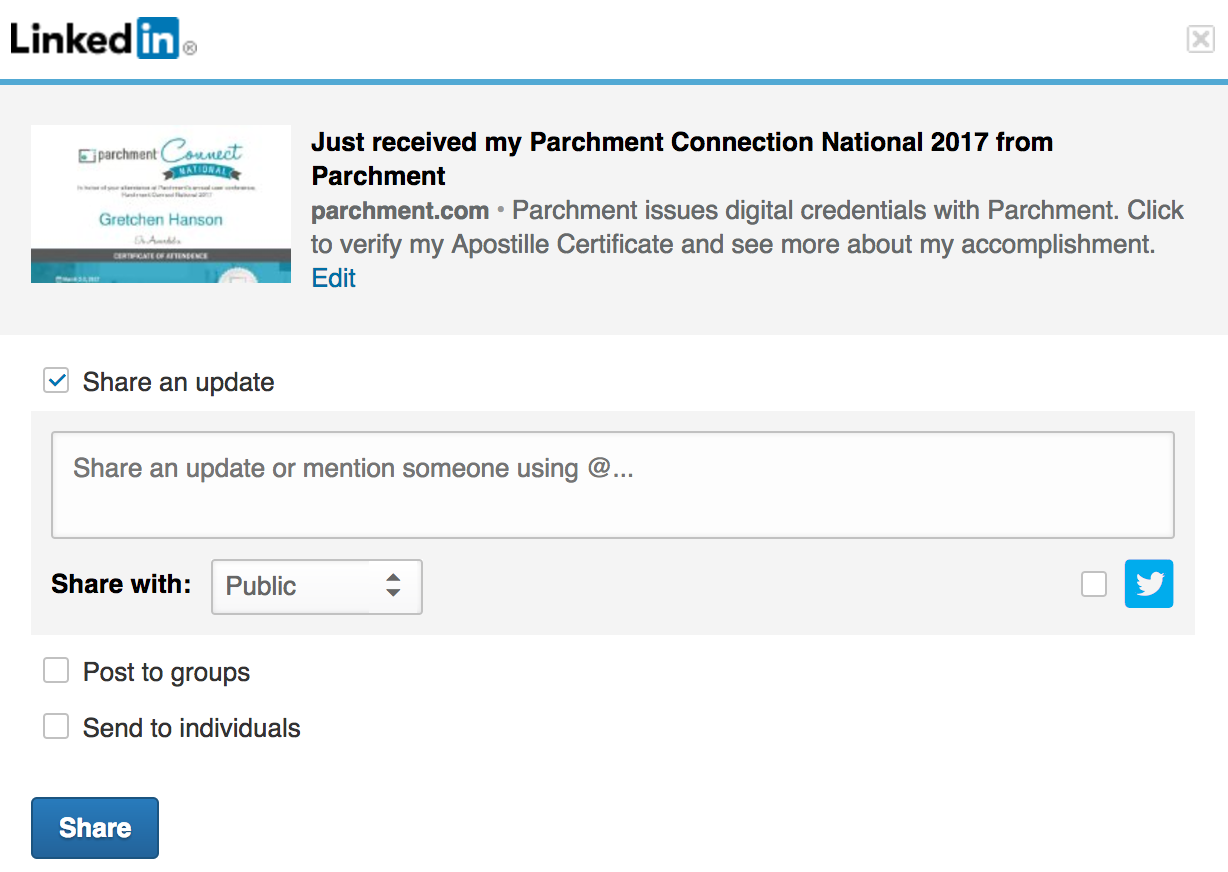 From here you can provide some comments, choose who you want to share it with, and hit share: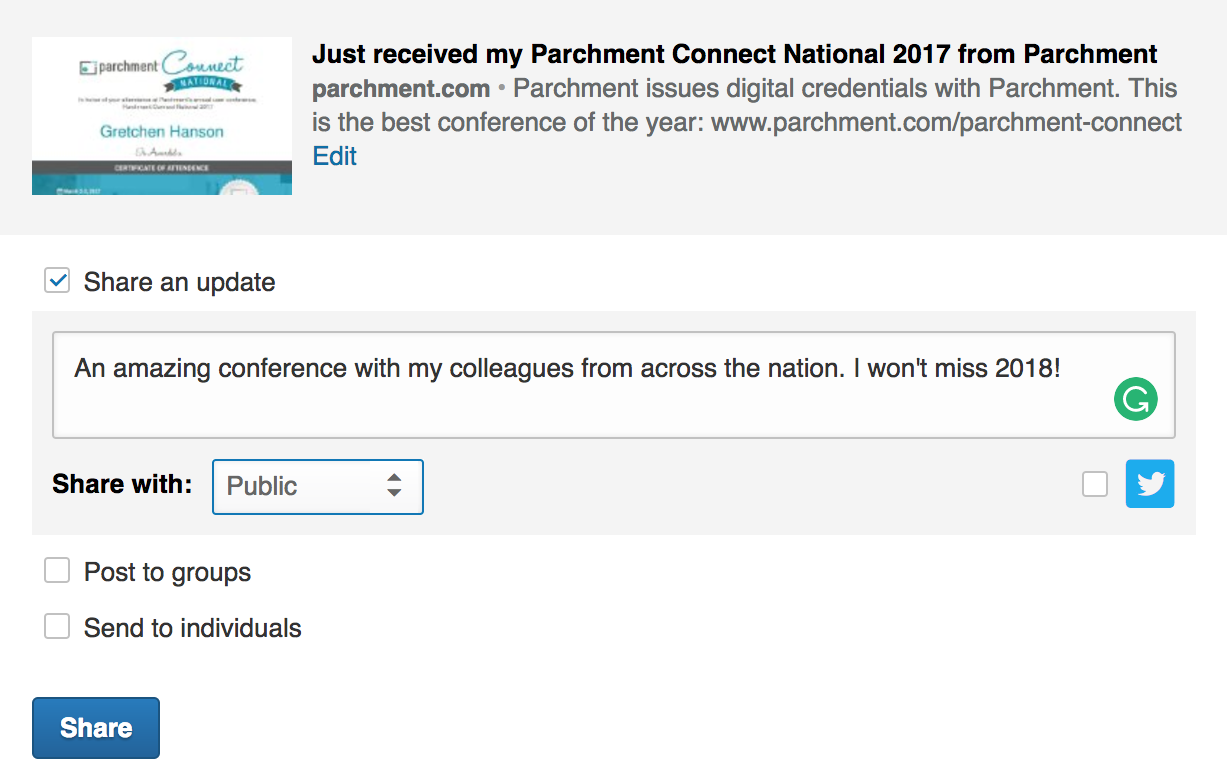 You'll get a confirmation notice, like this:

And then you'll see your credential in your post:
It's that easy!
Add To Your Profile
When employers are looking at your profile, allow them to see the diplomas, certificates, and badges you've earned in the "Certificate" section.
From your LinkedIn profile, select to Add a new profile section, and choose Certificate: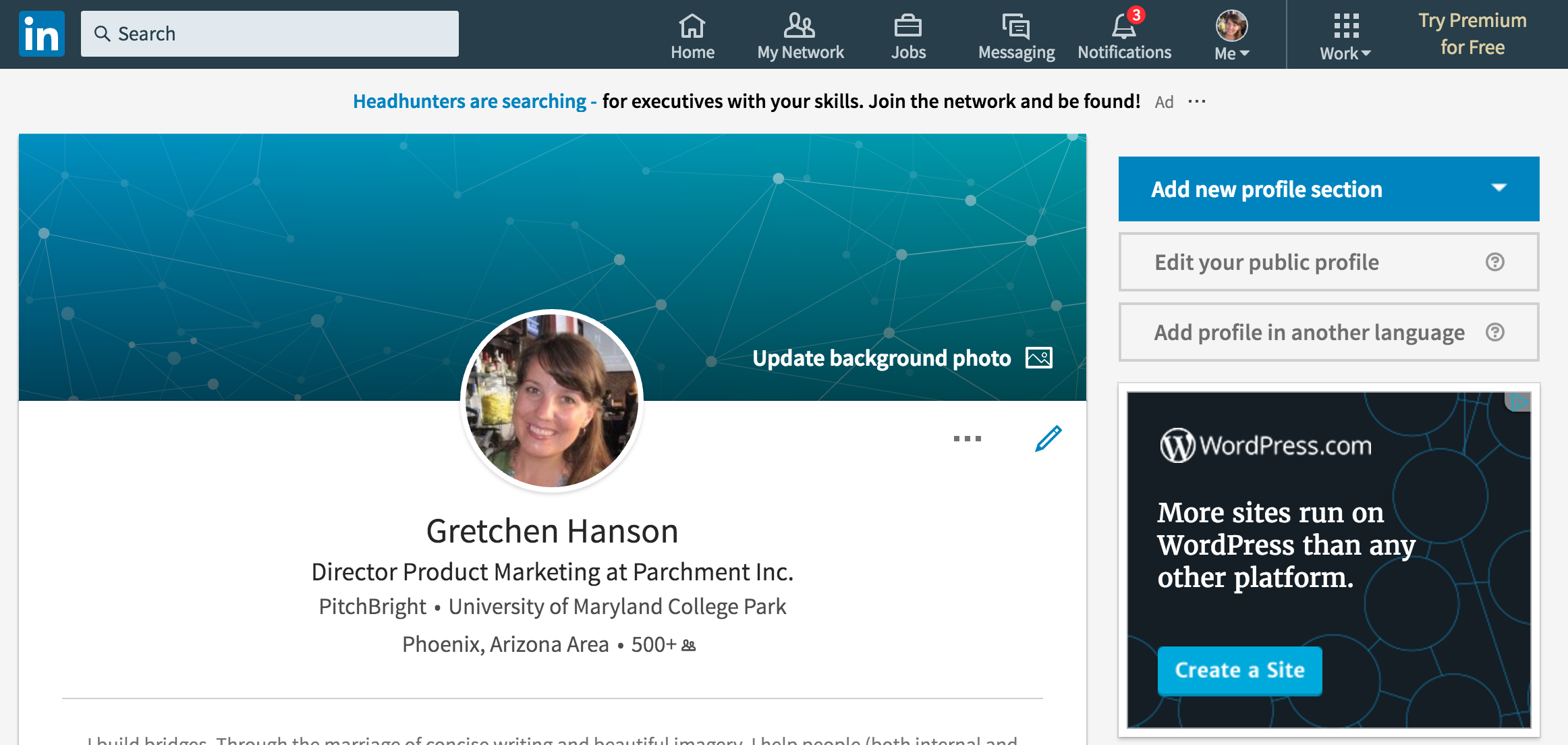 Fill out the information in the pop-up window: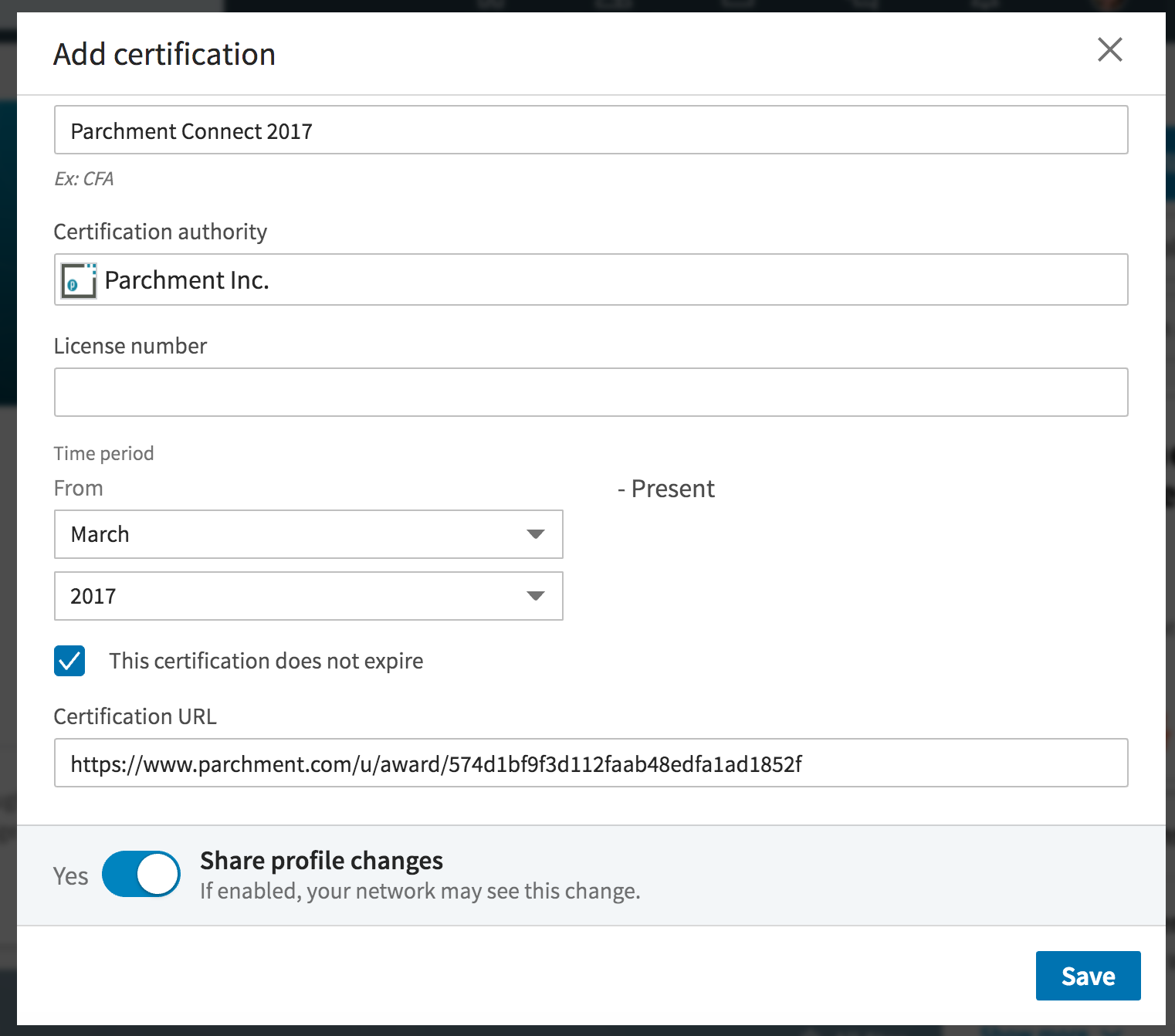 Add the name of your certificate or diploma
Search for the issuer (usually your school)
Enter the dates and check if the certificate expires or not
Then it's time to enter the URL for your credential … let's go get that from your Parchment account.
Get the URL for Your Certificate by clicking on the  Export link: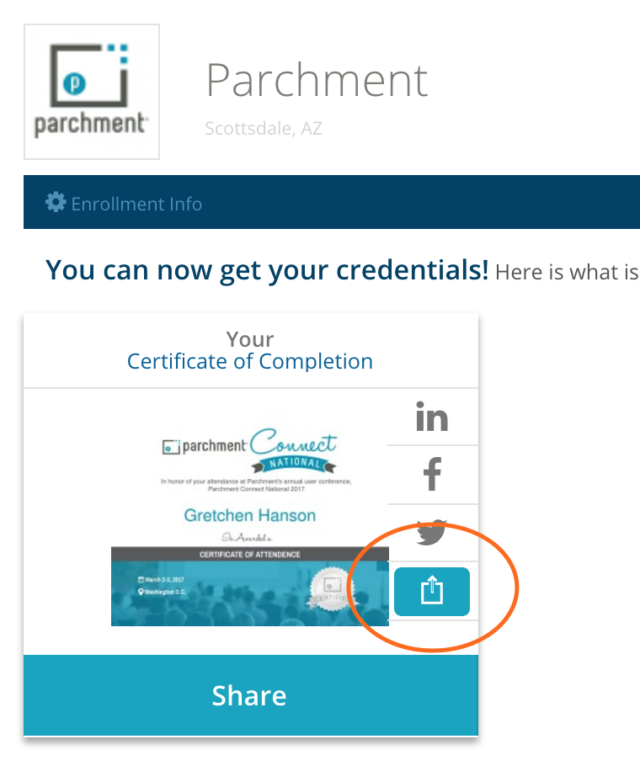 Copy the URL:
Paste the Shareable Link URL into the LinkedIn window: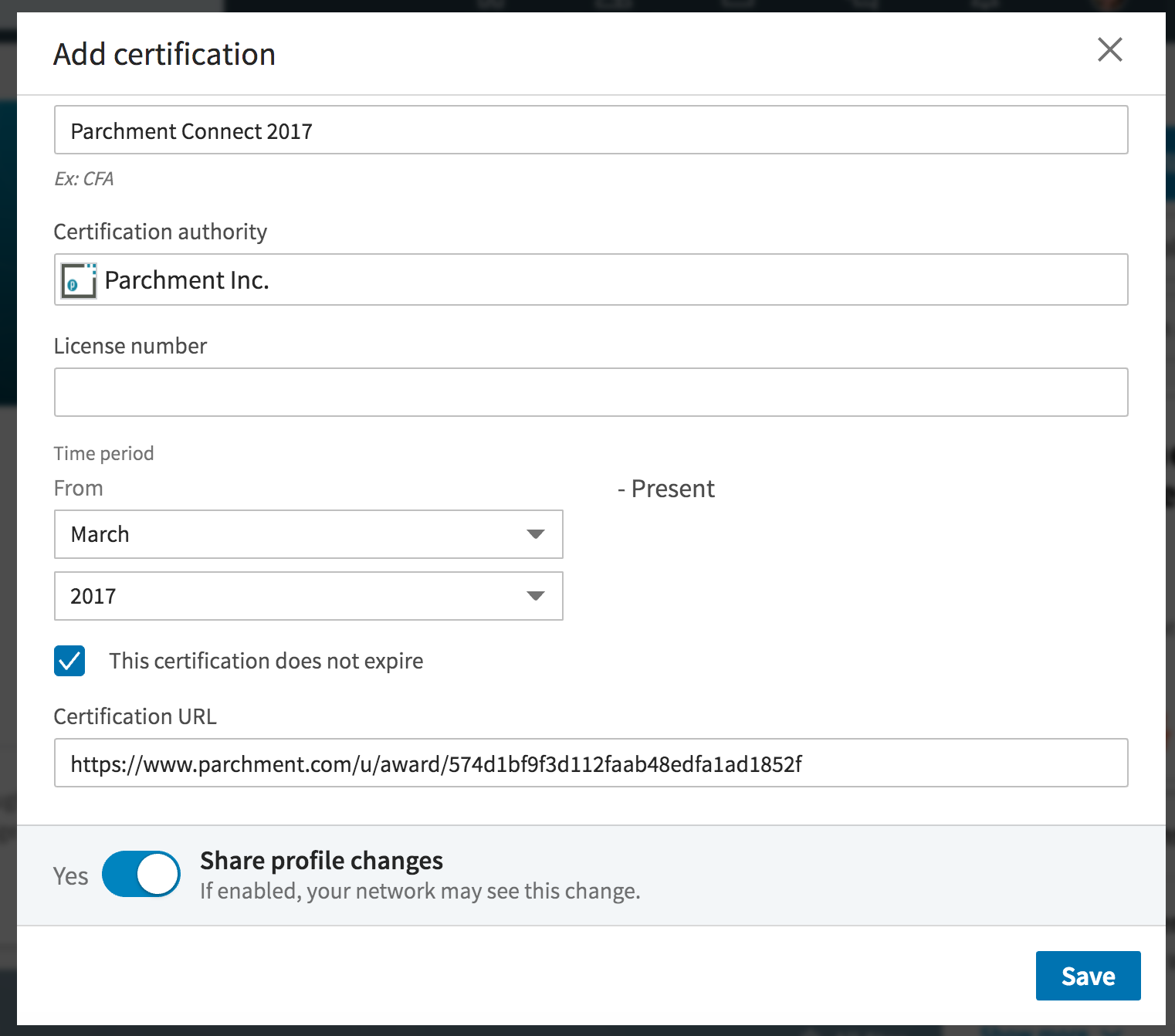 Hit Save and then view your credential:

And that's it! You've added your credential to your profile!
Interested in issuing your own credentials that can be shared on LinkedIn?
There's always more to learn.
Ready to feel the power of Parchment?
I'm a student or a learner
I work at an institution or business